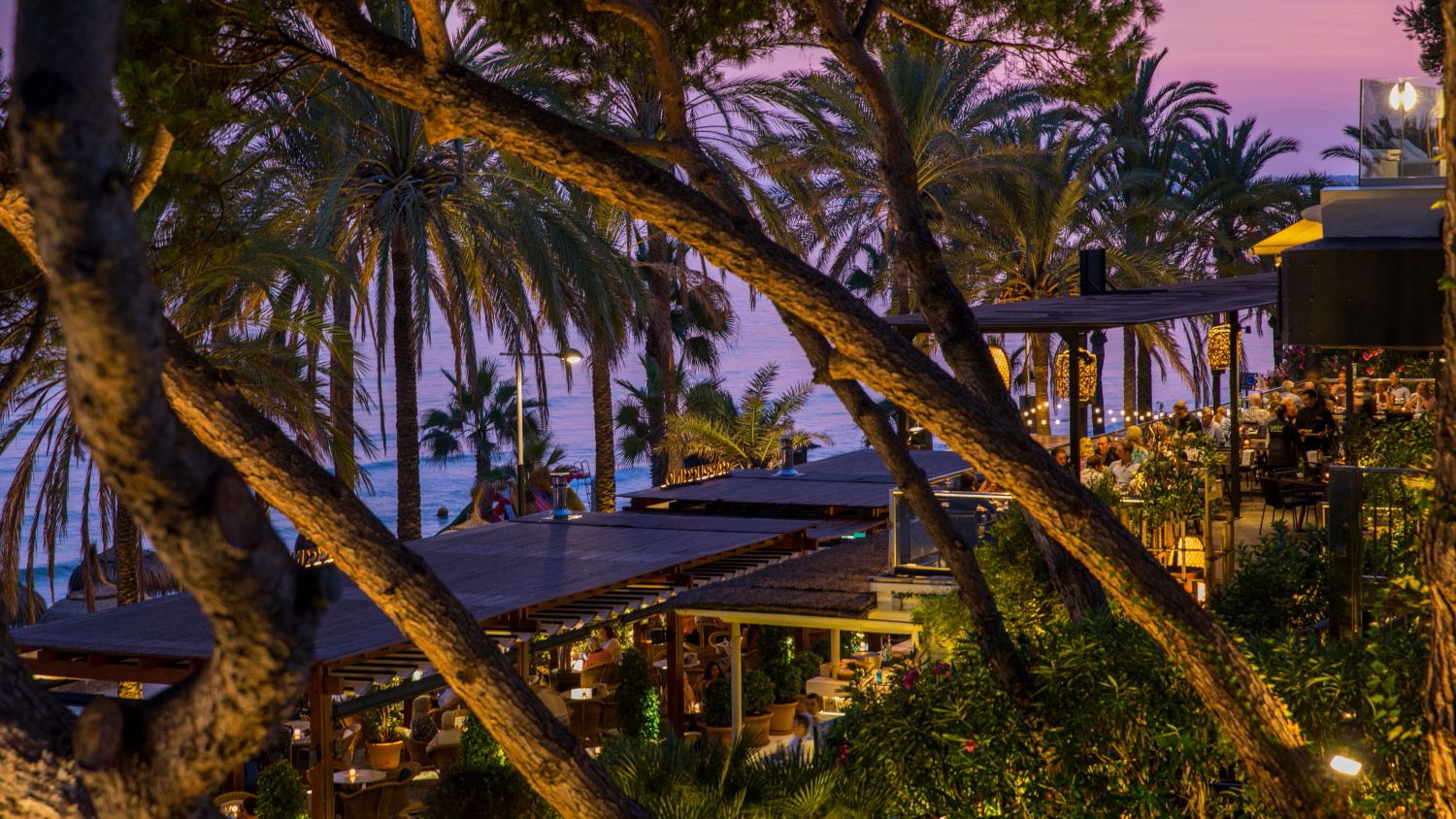 The Best Restaurants on Marbella's Golden Mile
Apr 3, 2023
Solid Gold Dining in Marbella
Puente Romano Resort & The Golden Mile
Good food is never far away in Marbella… With a stellar reputation for tasty tapas, wonderful local fish and seafood, a wide array of superb international restaurants and an ever-increasing supply of trendy fine dining spots, you will literally be spoiled for choice.
While getting a table at your favourite restaurant, or one of the top Marbella eateries may not be too difficult in the winter months, come Spring-Summer, making a reservation with plenty of notice is recommended…
Undoubtedly the best place to start for varied and creative dining in Marbella is the Golden Mile, the resort's gastronomic hotspot. Famed for its ultra luxury properties, and the legendary Marbella Club Hotel and sister hotel the Puente Romano Resort, the so-called Golden Mile, which stretches from the town centre to the edge of Puerto Banús, is a good place to start for some of the finest food in Marbella.
In recent years, the Puente Romano has become the new hub for upscale socializing in Marbella, with the trendiest restaurants all focused around the beating heart of the resort – the open-air bar area La Plaza.  Marbella's "playground"  – without equal, the plaza  also hosts events, fashion shows, and is open all year – with a great buzz and people watching…
You can dine around the globe within the walls of this amazing resort.  Offering a total of 20 restaurants and gastronomic havens to choose from, not surprisingly,  the Puente Romano Beach Resort  featured in the Conde Nast Travel Gold List 2022, one of the best gastronomic hotels in Spain.  Stay here for a week, and without leaving the resort you can take a gastronomic tour of the globe.
Starting with the world famous Nobu, masters of Japanese cuisine, this restaurant brought a whole new vibe to dining out in Marbella.  With a chic urban design,  an open kitchen and chef's rituals, here you can savour classic Japanese cooking with a Peruvian twist.  Open for dinner only from 7pm, Nobu brings an ambience of urban sophistication to the Golden Mile.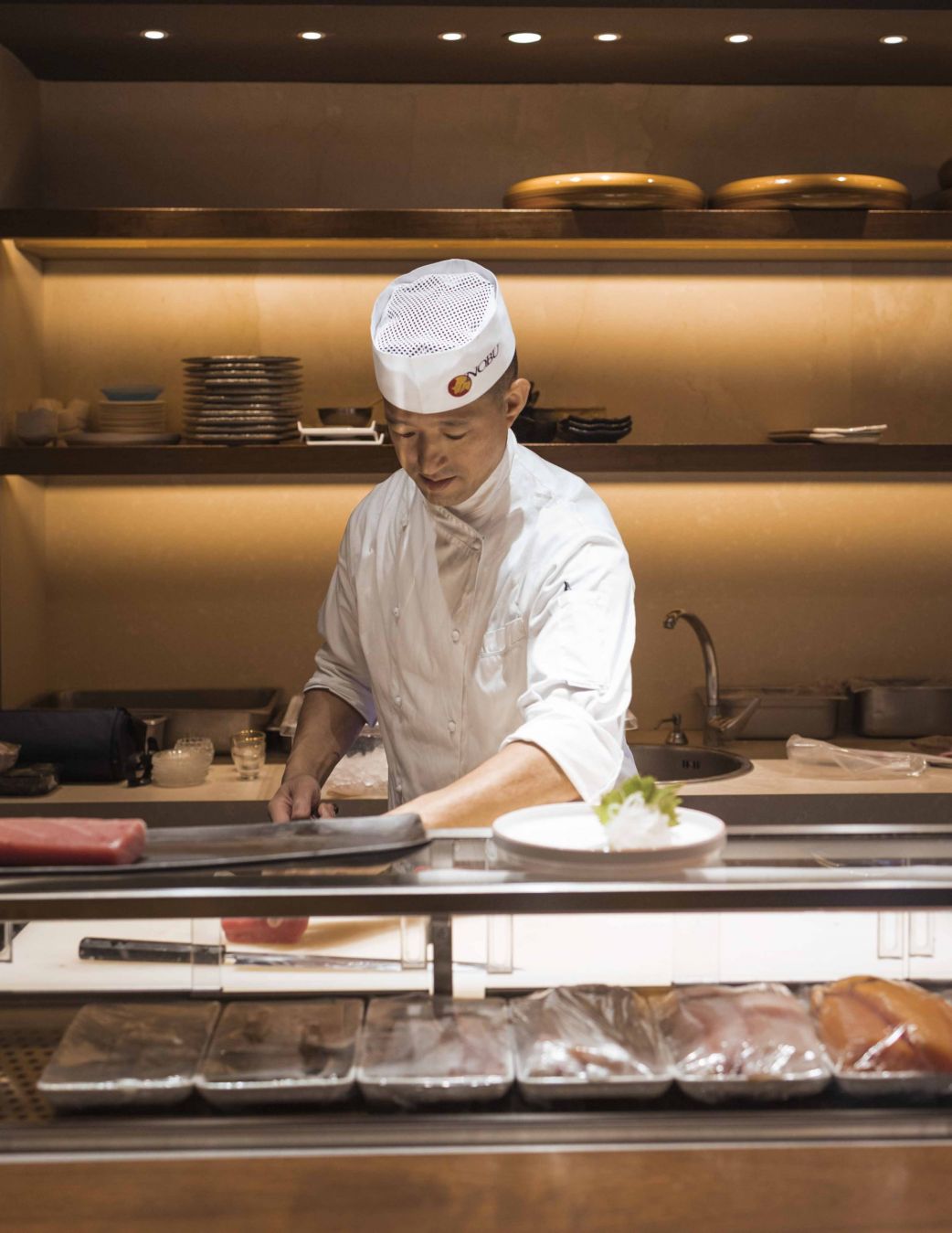 If you prefer to take your sushi with a sea view, head to Jardins Sur Mer for fine dining Japanese style, overlooking the paseo marítimo, and open from 12 – 8pm.
For creative cuisine inspired by the finest local produce,  Málaga's Michelin star wonderkid, Dani García is the master.  With no less than two of his restaurants within the Puente Romano Resort, both are equally tantalizing.  Leña , is a meat-eaters' paradise, with fire and smoke at the heart of magic conjured up in this particular kitchen, this is a new kind of steak house. Set in a simply stunning venue –a vision in wood and stone you could be sitting inside a tree trunk – the restaurant was voted the "most attractive restaurant in the world" in 2021.
The other Dani García establishment at the Puente Romano is Bibo –  a brand the chef has taken to other luxury destinations including Madrid and Doha.  Having achieved three Michelin stars here, the chef opted to close the doors and move away from haute cuisine.  Four years on, a revamped, cosmopolitan version will be opening soon to add to the mix of the Puente Romano dining options.
Occupying a prime sea front position, Sea Grill is the beating heart of Puente Romano's restaurant scene.  Serving all day delights, with breakfast from 7.30 am,  to leisurely lunches, sea food, paellas through to international fine dining in the evening.  Glamorous at any time of the day, the restaurant takes on a more formal in the evening,  with a piano player or perhaps a jazz quartet, or DJ, diners have the option of the stylish dining room or  enjoy a gentle sea breeze  on the terrace overlooking the paseo marítimo.  With fish and seafood the main event at Sea Grill, here you will savour the best the Mediterranean has to offer.
Chiringuito – right on the beach, a pie de playa this restaurant may be named chiringuito, the Spanish name for a typical beach restaurant along the coast, but here the experience is elevated and brought on trend. Serving healthy food, delicious salads and fire-smoked espetos of the freshest fish, here you can also opt for sushi and savour a wide range of wines and cocktails at this beachfront haven.  With sun loungers on the sand, you can watch the sunset to the sounds of the DJ and  sip a long drink.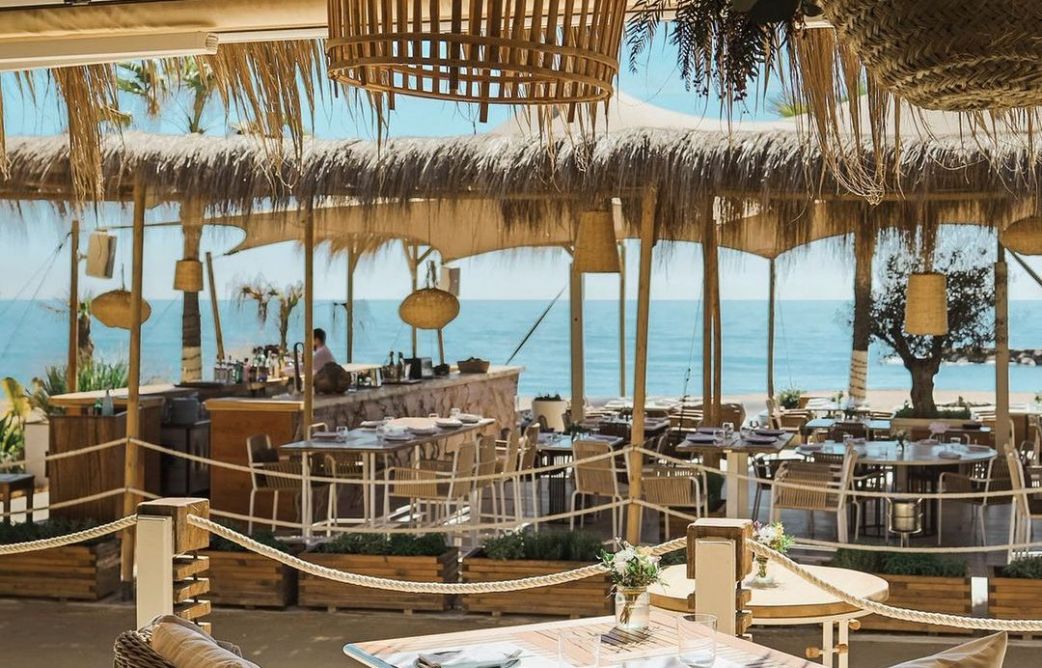 At Supper Club it's time to ramp up the glamour with dinner with a difference and a memorable night out.  Here  you will get social, sitting at long tables, making new friends and enjoying a spectacular show as you dine.
Celicioso, has been created for "gluten free" guests. Here  you will find no sugar, dairy or wheat on the menu.  Open for breakfast and lunch, the juices and pastries are legendary.  You can also choose to sip champagne with your healthy delights.
Also for the health-conscious clean eaters Rachel's Eco Love  is serving up delicious and attractive food for the soul.  Also open for breakfast and lunch, here you can enjoy healthy juices, protein shakes, fruit bowls and soups, eggs, salads and specials including veggie curry and wraps, along with the promise of good vibes.
Ceviche lovers can stand by for the imminent opening of Coya, which will be serving up a selection of Peruvian delights.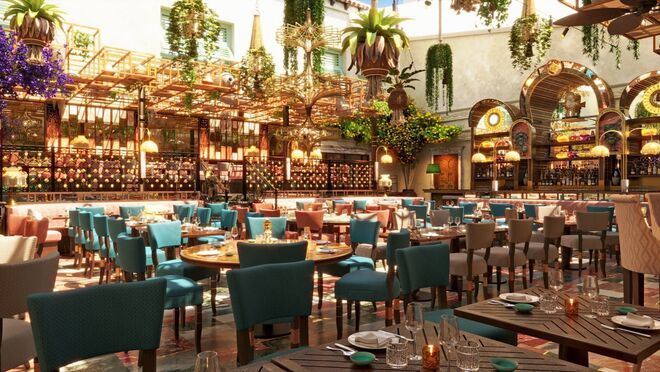 Occupying an exotic corner you will find La Selva – a  bar surrounded by palms and tropical plants. Secluded and laid back, here you will find delicious, daring flavours and unique dishes – snacks and cocktails – served until late.
You may also like to check out La Concha, a Polynesian inspired cocktail bar where you can kick back on chillout beds, soak up the sounds of the DJ in the afternoon while sipping your Kir Royal or mojito…
Also hidden in the exuberant foliage of the hotel's award-winning gardens Is Patio Sur  – another Andalusian-inspired bar where you can enjoy a relaxed drink  while catching an outdoor movie…
With similar American inspiration is the poolside venue Cheat's with an irresistible menu of Stateside classics including Cobb Salad, Buffalo Chicken Wings, Burgers and a succulent steak sandwich…
If Lebanese food is your chosen cuisine then head to Les Jardins du Liban. Here you will enjoy the freshest, tastiest Lebanese feast with a wonderful selection of traditional cold starters, Hummus and Moutabal- tabbouleh, Felafel – and super couscous dishes and marinated meat skewers – all to be savoured in a refined setting.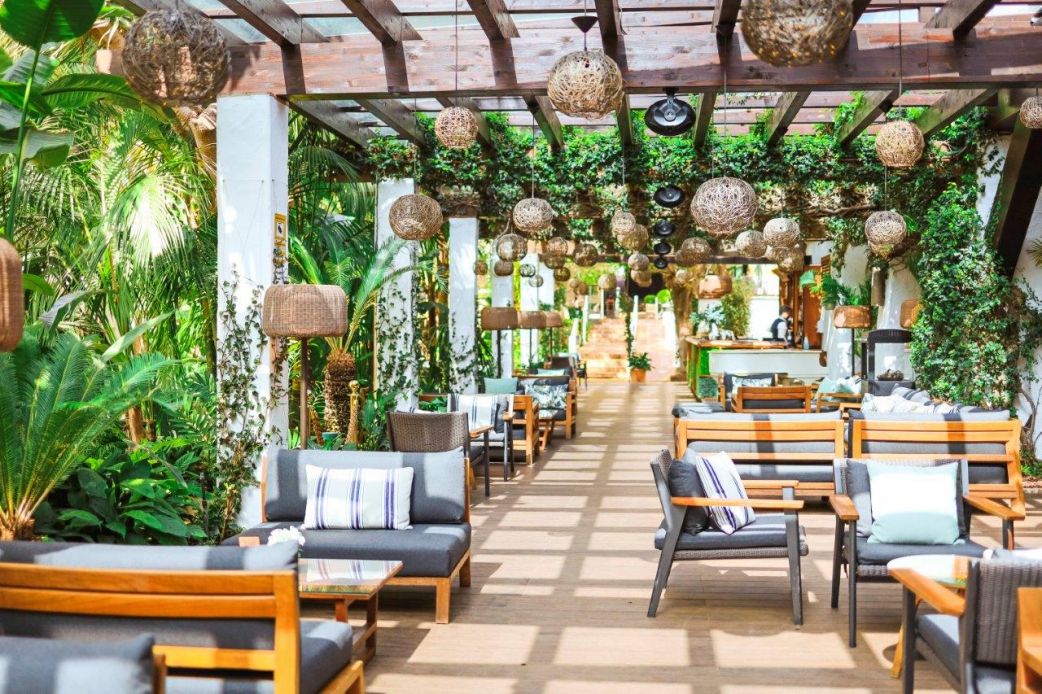 The Puente Romano resort has its own tennis club, and after working up an appetite on court, in the gym or at a fitness class, you can head to Lagom – the in-house café for a sustaining breakfast of eggs, light lunch options and delicious cakes and desserts – all served up between 9am-7pm.
The gastronomic world tour also stops off in Thailand, with the fabulous Thai Gallery restaurant.  A stalwart of the Marbella restaurant scene, this venue serves up superb, authentic Thai cuisine with the most amazing presentation – including plenty of vegetable carving and edible flowers.
The list of superb dining venues at the Puente Romano Resort just keeps giving… The exotic décor of the Monkey Club invites you in to try more unique culinary experiences. With a creative menu designed for foodies and gourmets – fish and seafood are the stars of the show.   With everything from crab to ceviche, prawn risotto, tataki of tuna,  meat eaters are well catered for with excellent steak & Wagyu burgers.
Just opened mid-April is the world-renowned Italian restaurant Cipriani, bringing the best of Italian cuisine in exquisite, nautically-themed surroundings. The navy blue and white colour scheme paired with polished wood and steel and class y leather chairs is a sumptuous setting for superb pastas and regional dishes.  Choose to dine indoors or under the shade of the covered terrace in the hotel's gardens.
Finally, to follow up on an amazing evening of dining and socializing, head to the resort's club for the best sounds and dancing 'til late. La Suite is a beautifully chic art deco inspired nightclub where a night of glamorous clubbing to the best sounds is on the menu from Thursday to Sundays.
Also on The Golden Mile
Lobito de Mar  -another star in Dani García's firmament  – here the famous Málaga chef exalts all the local fish and sea food. Everything from boquerones to oysters. He even creates an Ode to Red Tuna, in a variety of guises including a tuna burger. All kinds of fish, rice dishes – and lobster. This elegant establishment offers an impressive wine list – including many sparkling wines –a popular choice with fish in Spain and a wide range of sherries.
Successful family run Da Bruno a Casa is always a favourite with its wide menu of fresh pasta and delicious freshly made pizzas.  Always a good choice for a relaxed lunch or family dinner.
Sukhothai – the little sister of Thai Gallery – this intimate restaurant delivers the same quality of authentic Thai food.
Villa Tiberio  – one of Marbella's classics – this lavish Italian restaurant with spectacular gardens has hosted celebrities and the great and the good of Marbella for decades. Serving generous plates of classic Italian dishes, Sandro Morelli, the host with the most makes every guest welcome – and  along with good food, you can expect a memorable, entertaining evening.
An absolute classic is the legendary Marbella Club Hotel, which provides an array of gastronomic delights in the hotel's various restaurants with everything from the more formal Grill, the relaxed MC Beach and a variety of charming bars and eateries tucked away within the glorious grounds and gardens of this fabled establishment. Particularly recommended is the Sunday Grand Buffet at the beach club  – a cornucopia of Mediterranean delights with the sound of the nearby waves lapping on the shore as your accompaniment.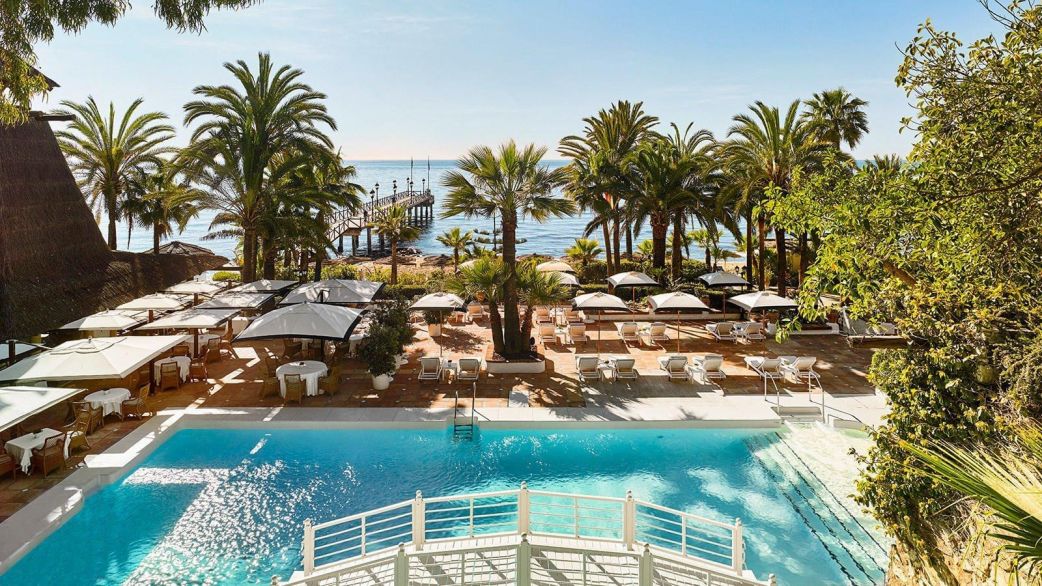 Tamanaco – right on the paseo maritimo, just metres from the beach, this is a Spanish restaurant with an international twist, here you can enjoy breakfast, lunch and dinner – from pil pil and calamares to excellent sushi, hamburgers… enjoy a coffee, glass of wine or a cocktail sundowner. Toasts and sandwiches, poached eggs, omelettes, pancakes and full English. With classic tapas and fish dishes at lunch, you can also opt for the delicious sushi – all in this amazing front line beach location.
Trocadero is one of the most popular beach restaurants of the Golden Mile serving an array of excellent Mediterranean gastronomy in a trendy, chillout ambience – a pie de playa – right there on the sand.  Here you can savour typical tapas, raciones with a twist, such as Squid with Korean Citric Spices, fabulous grilled fish – swordfish, sea bass, paellas and oak-grilled steaks.
Diblú is another, original offering, right in front of Gran Melia Don Pepe Hotel, on the beachside of promenade.  With cute décor -50s inspired, the menu delivers unique dishes including Tuna Tartar, Prawn Carpaccio, Salad Niçoise,  along with octopus, pastas and paellas, and fishcake burger.
The relaxed ambience of Cappuccino Grand Café  belies the formality of its waiting staff and the nicely presented dishes.  More than just a great location for a morning coffee, this chic café-restaurant gives every sip of your coffee or cocktail a sense of occasion.  Cappuccino offers a varied menu of international inspiration – everything from omelettes to wraps, pizzas, New York pastrami sandwiches, sushi, and mouth-watering salads. A good spot for breakfast – afternoon tea and cake, ice-creams and milk shakes are also a good choice – and there is a wide range of healthy juices.
Cappuccino comes to Marbella from the island of Mallorca, where the brand has several cafés dotted around the island. This superb venue on the paseo maritimo edging towards the centre of Marbella is a wonderful place in which to enjoy good food, nicely presented drinks, and it's a great location for watching the world go by.
Here you will also find the delightful Tahini – home of divine Japanese cuisine. Also brought over from sister restaurant in Mallorca, this chic restaurant has a very attractive terrace with sea views – the ideal setting for savouring delicate sushi and other Japanese delights.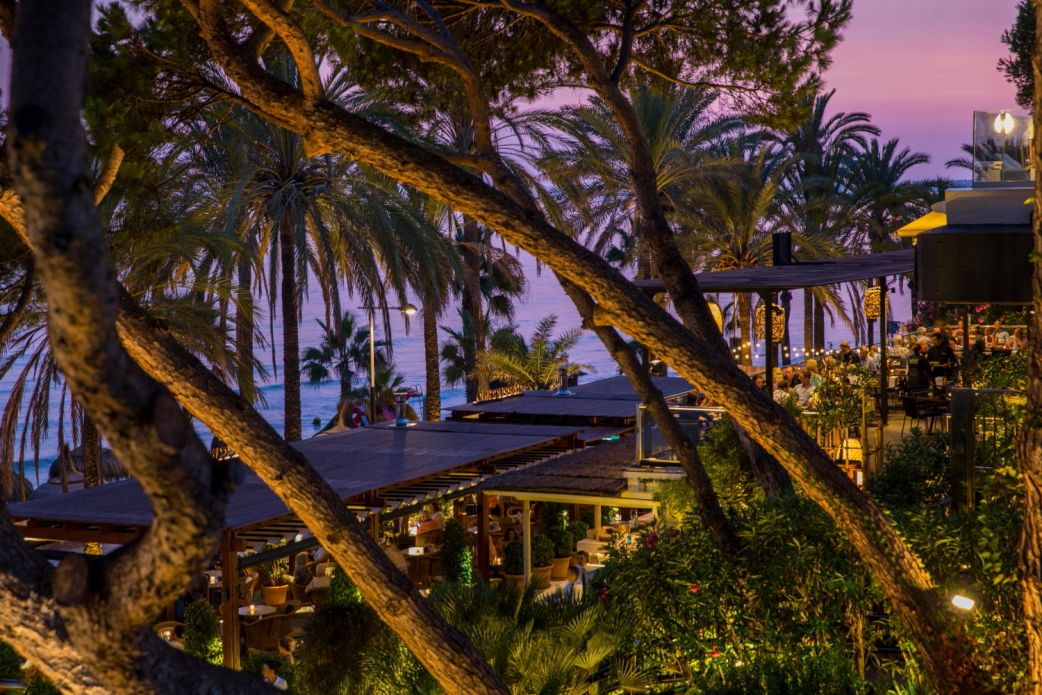 Victor's Beach is a Marbella classic – a simple "chiringuito" restaurant right on the beach…  The preferred chillout location of the Marbella locals, Victor's humble origins have stood the test of time.  Laid back and a favourite with Marbella's Bohemian crowd since 1978, Victor's offers good quality local cuisine, fish and rice dishes as well as Afro-Caribbean delights on the barbecue.
Just a minute or two in-land from the Golden Mile there is the swish Mamzel at Finca Besaya. This beautiful venue, stylishly decorated on the inside, with large, elegant al fresco terraces is surrounded by palms and beautifully illuminated for heavenly summer evenings.  With a main stage for performances and shows, the DJs keep the mood elevated.  Add to this the Skybar – open all year round, while inside you can choose to dine in the wine cellar area or on the top floor.
Also raising the bar on the resort's restaurant scene is the recently inaugurated Nota Blu.  Brought to you by the well-established Casani's group, this chic new establishment takes the place of former favourite La Meridiana – and promises to blend tradition with innovation. The menu is based on classic French cuisine, with a twist, while the extensive wine and cocktail lists provide inspiration for all tastes.
A beautiful new addition to the restaurant scene in Marbella is Boho Club which is tucked into a quiet enclave at the western extreme of the Golden Mile, close to Puerto Banús.  The trendy venue, with eye-catching contemporary Bohemian design, is set in a spacious garden featuring fresh green lawns and sculptures. Heading up the restaurant is Diego del Río, a Michelin star chef who is thrilled to be serving up excellence in every dish at this new Marbella hot spot. Employing the finest local ingredients, the menu purveys classic French cookery with inspiration from the chef's international travels.  The tasting menu is highly recommended, as are the surprising fish dishes, meat with a difference and excellent creative vegetarian dishes.  Also a boutique hotel, the advantage of Boho Club is you can enjoy an evening of fine dining, book a suite and stay over.