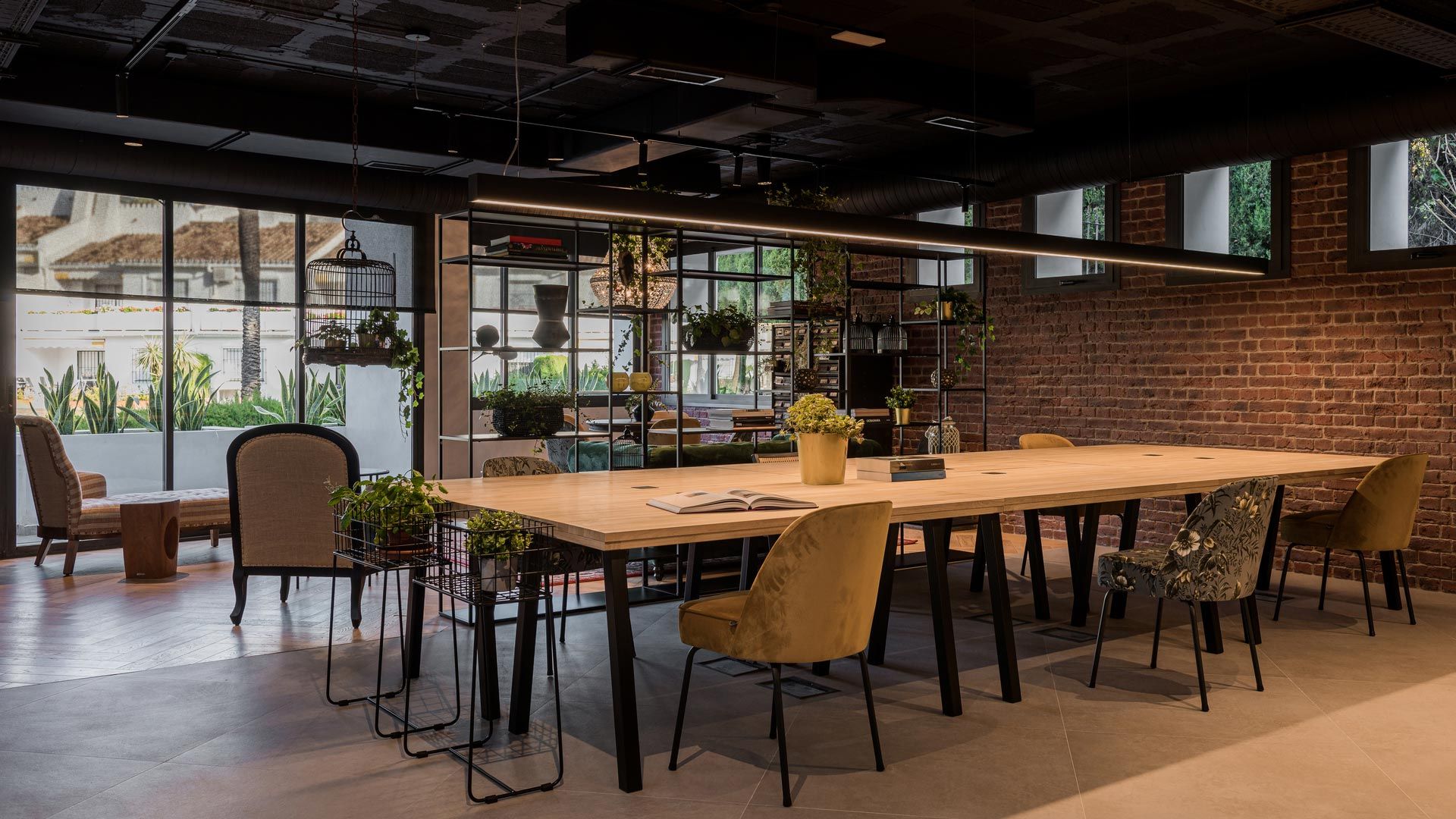 The 6 Best Co-Working Spaces in Marbella
Apr 13, 2023
CO-WORKING SPACES MARBELLA
Remote Working in Style
Responding to the demands of modern working – today's workforce is not necessarily bound to the 9 to 5 and an increasing number of professionals are splitting their time between an office and a more flexible working style from home or a convenient location, such as an internet café or a custom-built co-working space. Are you looking for the best co-working spaces in Marbella?
The rise of remote working and hybrid work – a blend of office and remote working –  a trend consolidated during lockdown, has created a new wave of digital nomads, free-spirited professionals and entrepreneurs jetting off to sunnier climes armed with a laptop. Growing numbers of remote working employees and entrepreneurs around the world are adopting a flexible working model, mixing it up with working days spent in different locations, facilitating new markets and contacts and networking with like-minded individuals in design-led surroundings conducive to creativity and efficiency.
Co-working spaces are nothing new – chains such as Regus have been operating for decades giving much needed office and meeting space to travelling professionals and fledgling entrepreneurs.  What is true, however, is that co-working spaces have evolved, improved and become tailored to the new working models currently sweeping the globe.
Productivity is said to improve with co-working, and clearly there are many benefits, particularly for anyone new to remote or tele-working. Among the benefits are avoiding the distractions of working at home and  putting structure and routine in your working day.
Similarly, as a pleasing environment – co-working spaces range from the merely practical to the downright luxurious – and foster an ambience of collaboration & support.  A new environment can stimulate your creativity, while providing a cost-effective way to access an office environment, make contacts and expand your network.
CENTRO HOUSE
Work & Stay in Style
This newcomer in the co-working scene in Marbella is the most luxurious option to date. That's one of the many reasons Centro House deserves it's spot in our list of the best co-working spaces in Marbella.
Located in a villa in the exclusive residential neighbourhood Nueva Andalucía,  Centro House is a luxurious co-working space with a difference; apart from the stylish co-working space and meeting rooms, it also offers members the use of the garden, swimming pool, gym and kitchen.
With flexible membership options – starting with just one day at 39€ for co-working desk – including use of all the facilities, meeting rooms can be hired out by the hour, again with the use of all the facilities and private offices for up to 12 people are also available.
Comfortable, chic and organized, this is a seriously nice environment in which to work, create and brainstorm ideas, as well as having great networking potential with internationally minded business people at the sociable events hosted for members in the venue.
Completing the picture is the Centro House Executive Accommodation. Comprising 4 luxurious, en-suite bedrooms,  entrepreneurs and employers can rest assured their executives have everything they need for efficient working when they – or their staff – are abroad.  Offering members access to a global network of professionals as well as healthy food and wellness programs, this is the complete holistic Marbella work space.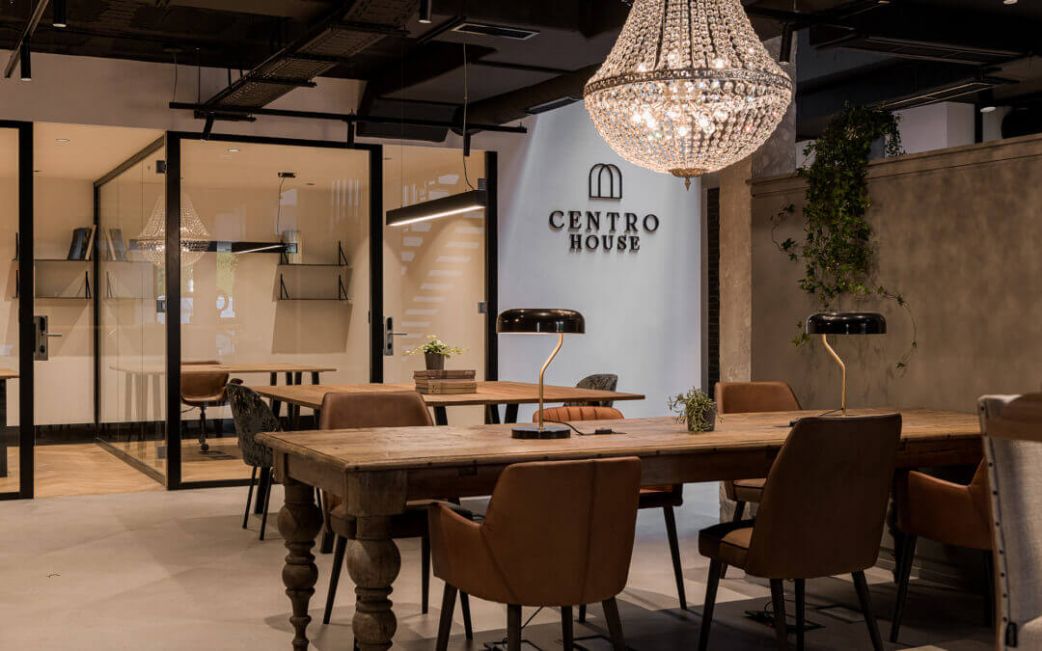 Centro House, C/. Las Azaleas, 29660 Nueva Andalucía
THE POOL 
Pooling Talents
An impressive new co-working space opened in February enjoys a stellar location on the top floor of the El Corte Inglés décor store, in the heart of Marbella, opposite the Palacio de Congresos trade fair centre, and at the eastern extreme of the Golden Mile.
A large on-trend space, a gigantic atrium enjoying all the natural light of the glass-topped roof, The Pool is set to become one of Marbella's hot new business communities, attracting a dynamic crowd of entrepreneurs and professionals from within Marbella and those who are visiting.
Backed by Swedish entrepreneurs in the tech sector, the Pool has been conceived as a business club -like a 21st century Rotary Club; a place where like-minded individuals can meet, share ideas, make contacts and do business.
This striking space houses around 20 individual offices, large and small meeting rooms and plenty of communal work space for the Open Pool. To use the nicely furnished common areas between 8am-7pm, you can pay a sign-up fee and an on-going quota of 175€/month.  Even this, the most basic of memberships includes reception services, wi-fi connection and discounts on meeting rooms – and shortly access to the large open terrace which is due to be operative by May.
Other options included taking a Hot Desk space, a fixed desk option, or a private office for up to 8 people. The latter gives you dedicated office space with daily cleaner, late hours access, commercial address and invitation to priority Pool events. You can even opt to just join the Business Community virtually – with access to networking and promoting of your brand on the Pool's platforms.
The Pool has a community app for networking, promoting your brand and fomenting on-going partnerships and will be holding regular events for members.  A dynamic space for people who are going places, The Pool is a welcome addition to the co-working spaces in Marbella.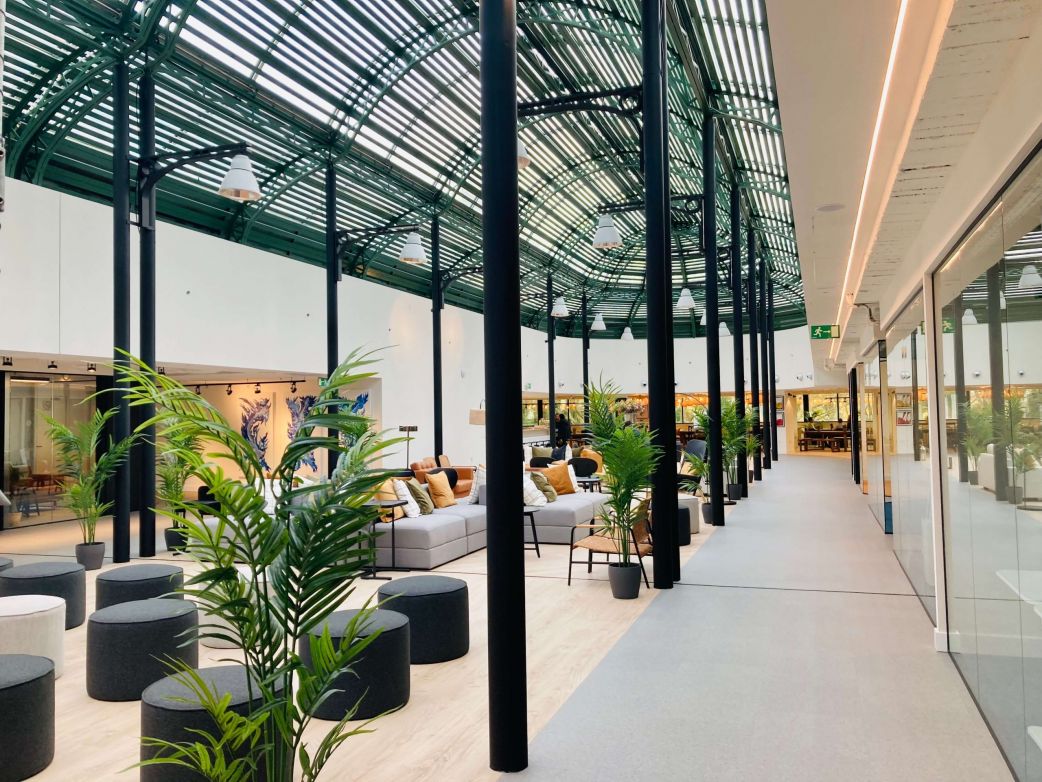 The Pool, El Corte Inglés, Avda. Bulevar Principe Alfonso Hohenlohe 29602 Marbella
VOLUBILIS COWORKING  
Co-Working in Classic Style
Directly opposite the Marbella Club,  on Marbella's fabled Golden Mile is Volubilis.  Formerly a well-loved antiques emporium, now you will find the space transformed into a classically elegant co-working space, which is just opening up to a new type of professionals.
The former antique emporium is a beautiful historical building displaying classical Andalusian architecture.  Once a grand villa, set in simply divine gardens with fabulous fountains and water features, the whole property has been transformed into a calm and harmonious modern emporium of co-working, while retaining many original features and enhancing its charm.
Born out of the  Canadian investors' desire to create a different, better way of working, the team behind Volubilis Co-working have created a seamless hybrid of the heritage of the building with and a modern, inspiring co-working space that is both stylish and practical.
The serene and inspiring venue, blends the building's classical architecture with the elegant, board rooms and private offices, designed with style and flair and featuring comfortable, ergonomic furnishings and everything the 21st century business person could require.
Helping local and visiting entrepreneurs, professionals and freelancers to thrive, to focus and to connect – and to encourage collaboration between members, Volubilis is aiming to attract a high calibre of business people that will complement and find synergy with each other.
Volubilis houses 11 private offices, three beautifully-appointed meeting rooms of various sizes featuring stunning bespoke board room tables and striking décor, retaining key features of the original building such as a bold fireplace, with a kitchenette, bar and the simply sublime garden –  a stunning outdoor space that represents an urban oasis in which you can sip coffee with associates, tap away at your laptop and enjoy a healthy poolside snack.
With flexible membership, a full range of services such as access to wi-fi, printing, scanning, free coffee and free parking, what better food for the soul than working in such a harmonious environment?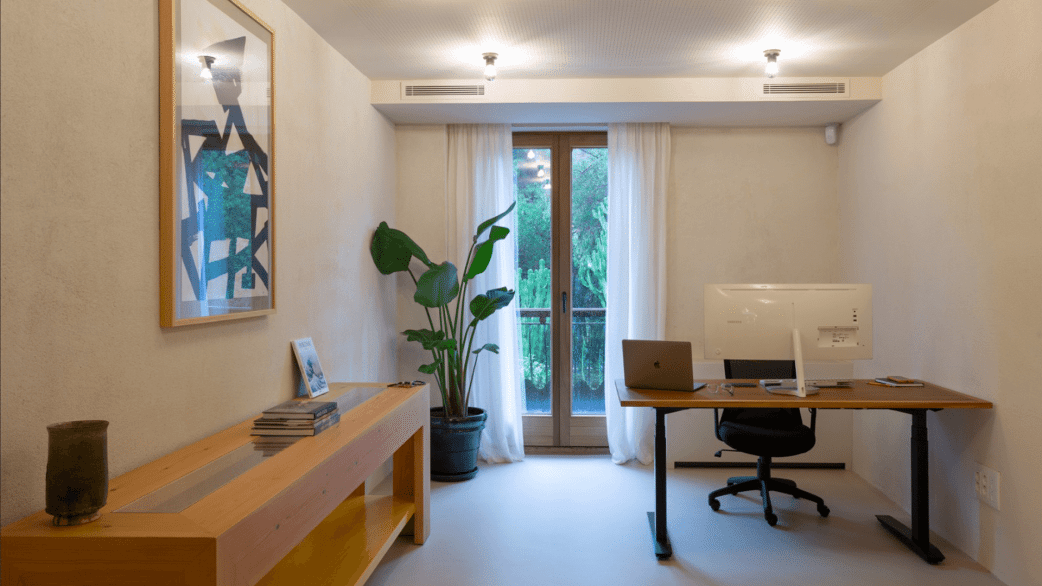 Volubilis Coworking, Centro Expo, Local 46-48, 29602 Marbella
OUR SPACE
Global & Green
Set within the Oasis Business Centre – a hub of furniture and interior design  – this co-working space is located in the heart of the Golden Mile.  The first global coworking community to connect humans with nature in an environment that helps reduce stress, bring clarity and boost positivity.
Comprising a large space, this attractive co-working space has been designed with well-being in mind to rejuvenate and inspire. Filled with plants and calming plants and greenery, Our Space has and entire green wall, and a stress-reducing water feature cut into the light wooden flooring.
With shared co-working desk space and a number of private, lockable offices and meeting rooms, the design is conducive to getting some inspiring work completed while connecting with a dynamic circle of professionals.
Share unlimited high-speed Wi-Fi internet access, private, clean and attractive meeting space and the advantage of plenty of free parking at the commercial centre.  Our Space also offers free yoga, massages and bike share along with unlimited tea, coffee, water and soft drinks.  There is also a trendy eaterie right below – which makes for healthy, clean eating on work breaks.
Our Space will connect you to a global community, exclusive member events and networking opportunities. The centre also offers a virtual office service which includes telephone and administrative assistance and receipt of post, which is ideal for professionals on the move.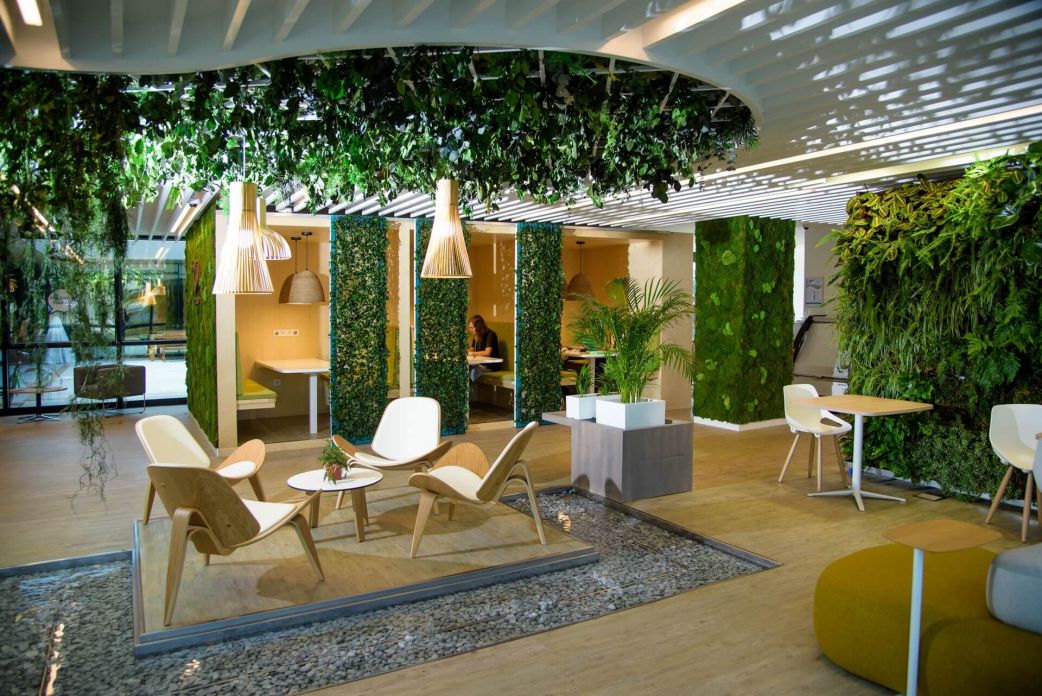 Our Space, Oasis Business Centre, Oficina 9, Autovía del Mediterráneo, Km 176, 29601 Marbella
WECOWORK MARBELLA
Networking in San Pedro
Based in La Quinta, at the beginning of the Ronda road, close to San Pedro de Alcantara, this co-working space has been created by a family-run business that invests in start-ups.  Co-working can boost motivation and help businesses to network and recruit.
Offering modern office space and a state-of-the-art conference room, this is an attractive place in which to spend your working day whether you live locally or you are remote working from another location or country.
A business centre made to inspire creative ideas and bring tools for growth and leadership, WeCowork Marbella hold regular events and conferences.   With a hot desk for the day priced at 20€, or a monthly cost of 169€,  alternatively, you can opt for a VIP office from 400€/month for 2 people.  Be aware that the meeting room is relatively small – for up to just 6 people, but at 99€/day, it's a fair price.  A virtual office service is also available from 79€/month. With print and copy facilities, a smart TV, complimentary tea and coffee, WeCowork Marbella will offer you a free trial of the facilities.
Joining this co-working community includes access to the Marbella Business Club Executive Membership.  Located near a hub of stores specializing in furniture and interior design, close to the San Pedro industrial estate, there is plenty of free parking in the area.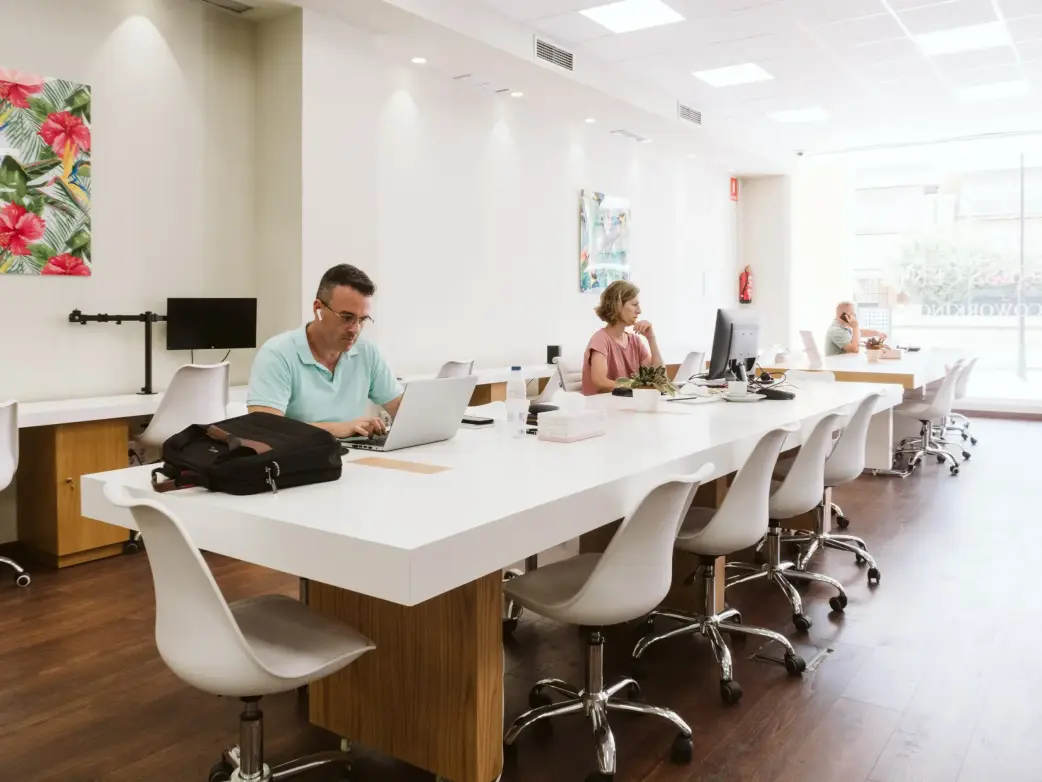 WeCoWork, Urb. La Cancela de la Quinta Edif. 1, C/ Agua Marina, 29670 Marbella
REGUS
The Original Co-Working Space
Very centrally located on Ricardo Soriano – a stone's throw from the beach, Regus is the original co-working space in Marbella with a presence during the past 20 years.
Regus is  more than just an isolated co-working space – it is a huge global network of co-working offices. You can gain access to this network with membership, and you will find Regus in every major town and city worldwide.
Within Marbella, Regus is the largest co-working space in Marbella with 51 private offices, 23 co-working desks and 5 meeting rooms.  Open, light and airy, Regus aims to create the ambience to solve all your working solutions.
With a day's co-working from 19€/day and 149€/month, you can work in a vibrant social and professional environment and make use of breakout areas to meet others and collaborate.
Individual office space is  offered  from 155€ per person/per month – and Regus's flexible terms allow you to rent office space for an hour, a week, a month or for years, allowing you to focus on driving your business forward.
The central location in the heart of Marbella gives you easy access to the nearby shops, restaurants and parks in the vicinity.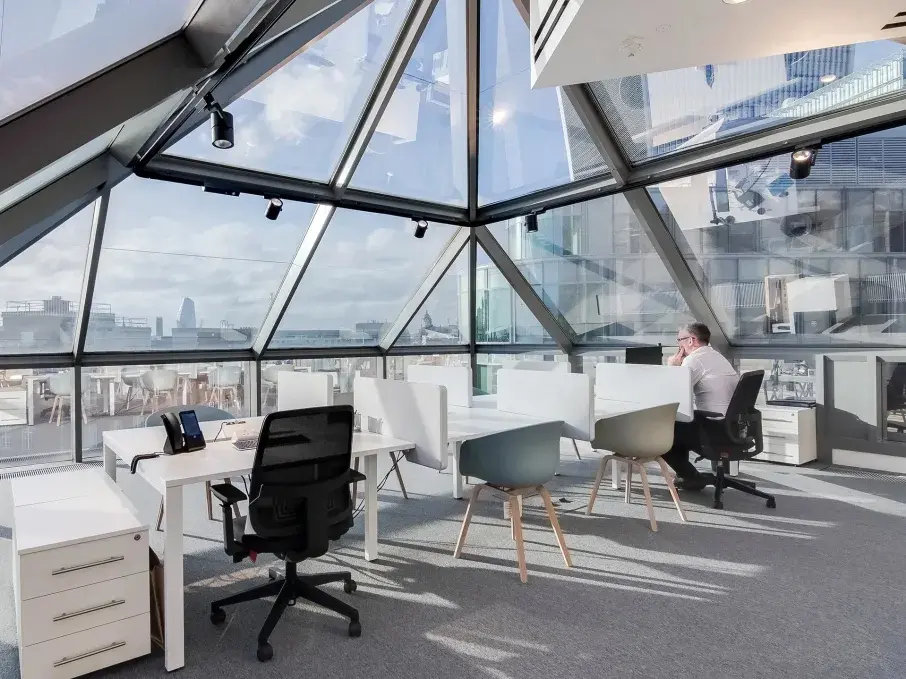 Regus, Avda. Ricardo Soriano, 72, Portal B, 1st Floor, 29601, Marbella
CO-WORKING AT HOME
New Builds with Co-Working Space
The co-working trend has also reached several of the best new build property developments in Marbella. Offering co-working spaces along with leisure facilities within the communal areas of urbanizations to attract buyers, residents have co-working space and networking opportunities literally on the doorstep. Along with state-of-the-art gyms, spas and social clubs, many developments include co-working space to satisfy the growing demand of international teleworking professionals.  
Among local developments in the Marbella area flagging up their co-working facilities are Soul, Epic, Quintessence, OceanView, Medblue, Vanian Gardens & many more brand-new developments!