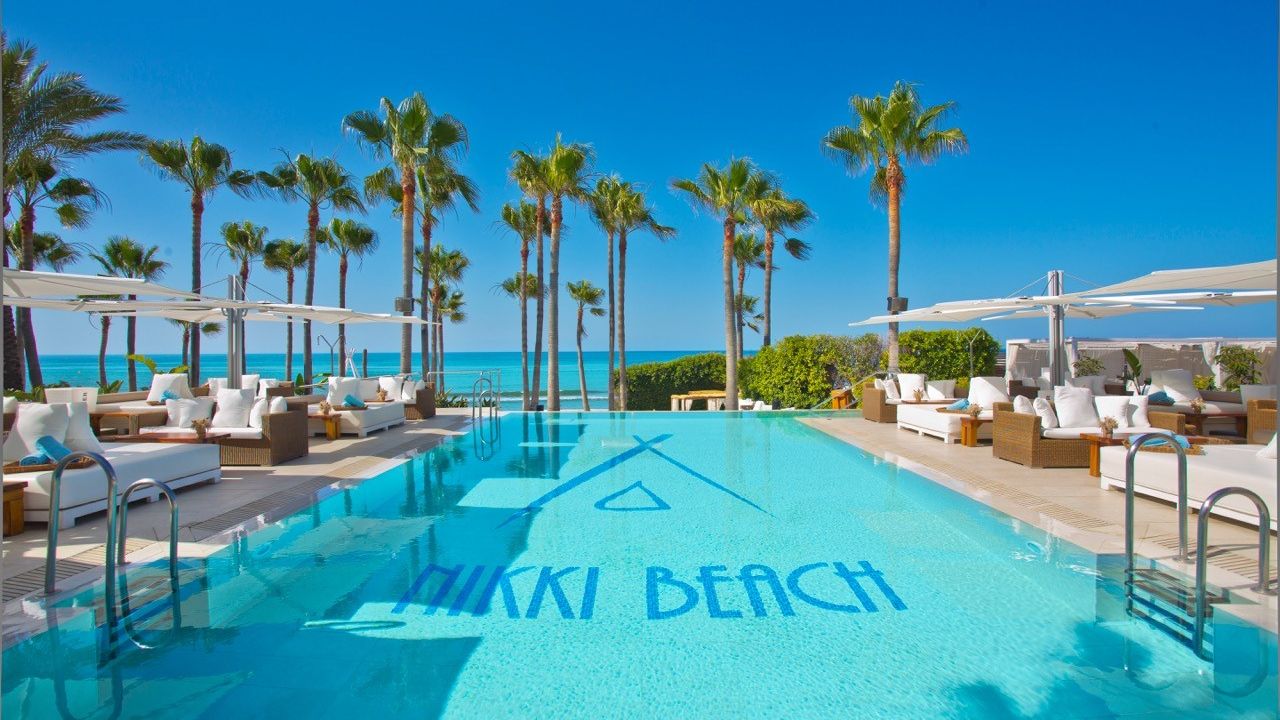 The 10 Best Beach Clubs in Marbella for Summer 2023!
Jul 22, 2023
Are you looking for the best Beach Clubs in Marbella?
Check out our top 10 below:
1. Nikki Beach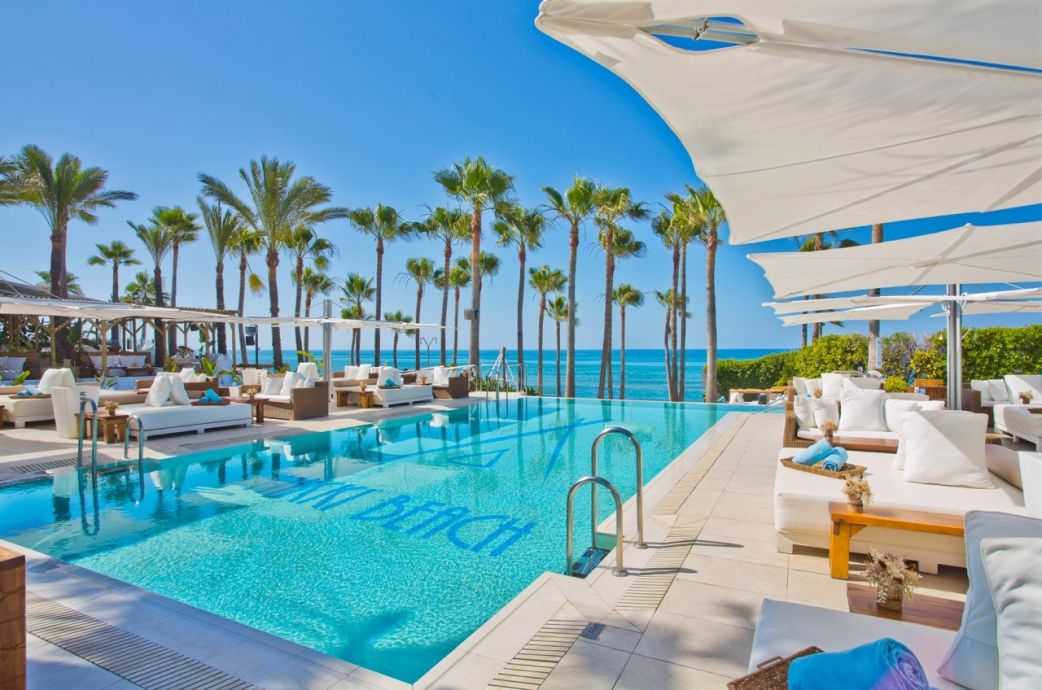 Global Glamour
When you think of beach clubs in Marbella, you think of Nikki Beach.
The original luxury beach club Nikki Beach is celebrating 20 years in Marbella in 2023. Spawning many a copy, Nikki Beach still remains in a league of its own as a global brand with beautiful beach clubs in the best locations worldwide. Originating in Miami, you can now find Nikki Beach in hotspots such as Sardinia, Cannes, Marbella, Ibiza and St. Barths with Nikki Beach Hotels & Resorts in Dubai, Montenegro & Santorini.
The brand philosophy is that every day is a "celebration of life" and with the winning combination of stunning beachside locations, American positivity and European savoir-faire, Nikki Beach serves up an intoxicating cocktail of upscale beach life, the best sound tracks and DJs, superb internationally-inspired food, a cosmopolitan crowd and the most glamorous parties.  A favourite with celebrities you'll find a firmament of stars; models, actors and even royalty coiffing champagne at a Nikki Beach somewhere in the world.
Characterized by the selecting the best locations, Nikki Beach Marbella is situated on one of the resort's finest beaches in Elviria.  The large-scale venue lends itself beautifully to weddings, launches and glamorous celebrations. The first to bring oversized Balinese beds to the beach, here is the ideal place to chill, sip mojitos and enjoy sharing plates of sushi.
The club is focused around the swimming pool, surrounded by wooden decking which stretches out to the abundant open and covered restaurant tables.  The wood and white décor, signature tipis and directors chairs create an ambience of relaxed chic and the large, octagonal bar invite you to kick back and relax.
The food at Nikki Beach is delicious and beautifully presented – often with great flair by line-ups of well-trained waiters relaying eye-catching platters of food to tables and serving magnums of champagne with effervescent smiles. Nikki Beach waiting staff are well-trained and friendly without being overly effusive.
The fresh menu takes inspiration from the best cuisine around the world – with local hints. Their sushi platters are legendary, the Chicken Satay exquisite and the Wagyu beef sliders mouthwateringly tender. You will find some local dishes too in each location, In Marbella they have Prawns Pil-Pil and Calamari.
Nikki Beach has always created events that take inspiration from art, fashion and music.  With less emphasis on themed parties latterly, Nikki Beach's legendary White Opening and Red Closing parties are  now more mellow affairs featuring cool entertainment and a more relaxed vibe – still with the hottest music and DJs in town. Dates for the diary this summer include the all-day Saturday Sunshine sessions and the 20-year anniversary celebration on 20th August 2023.
https://marbella.nikkibeach.com
Properties near Nikki Beach >>>
2. Fendi at the Beach at Puente Romano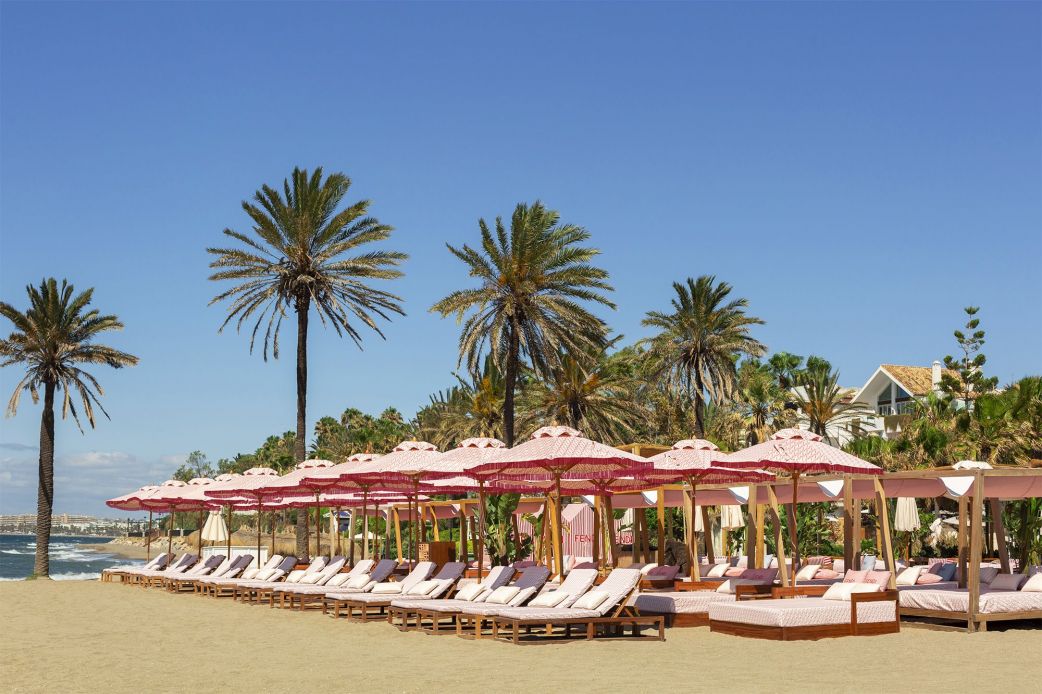 Fashionista Heaven
To celebrate the launch of the 3-storey store in Puerto Banús, the brand has chosen the uber fashionable Puente Romano as the place to celebrate. From June through to September the chic Italian fashion house Fendi has branding up the resort's Chiringuito beachfront restaurant with retro-inspired beach huts, towels and cushions  – all in bright red stripes with signature Fendi logos.
The branding includes a pop-up Fendi shop featuring women's and men's ready to wear fashion, leather goods  and accessories in the brand's 2023 Astrology collection ensure that beachgoers at this trendy spot stay on trend.
The beach restaurant – which enjoys a stellar Golden Mile location in the Puente Romano – the epicenter of Marbella's luxury social scene – has been suitably adorned with Fendi tableware and linens.  The brand has even put its stamp on the hotel's sailing boats…
Here you can expect to see Marbella's trendiest fashionistas enjoying the best that Marbella's beach life has to offer. The new Fendi branded Chiringuito definitely deserves a spot in our "top 10 best beach clubs in Marbella".
Properties near Puente Romano >>>
3. Ocean Club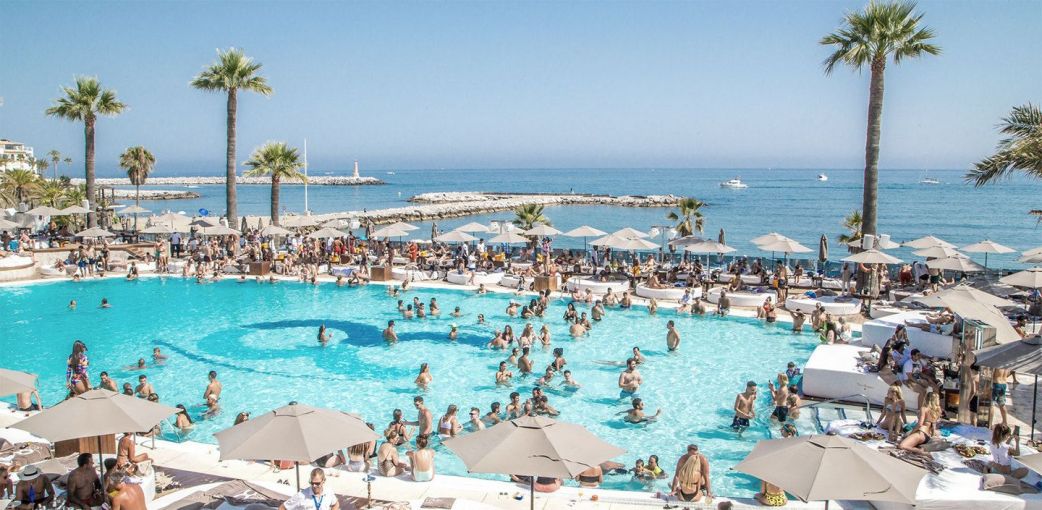 Pool Party Paradise
Following in the footsteps of Nikki Beach – this large club overlooks the beach and boast the biggest saltwater swimming pool of any club in Europe.  A sea of beach umbrellas surrounds the pool and the club borders the beach.
Next to Puerto Banús – this vast club is focused on the party crowd – glamorous nights of fantasy – themed parties, spectacular opening parties, gold themed – fantasy entertainment and trending music.
Food is one of the main ingredients served up at the cocktail of life on offer at Ocean Club.  Taking plenty of international inspiration, the restaurant serves everything from sushi to pizza, passing through mouthwatering salads, bagels, sandwiches, steaks and fish dishes along with delicious sharing plates such as the Tandoori Chicken and Lebanese mezze options.
The Club takes advantage of its size to organize large scale parties, many of which are themed, including the all-out hedonism of their season Opening Party in April, and the Closing Party at the end of the Summer.  Look out for the Belgian party on 21st July – this might give you a clue as to the nationality of the owners and biggest fans.
Properties near Ocean Club >>>
4. La Plage Casanis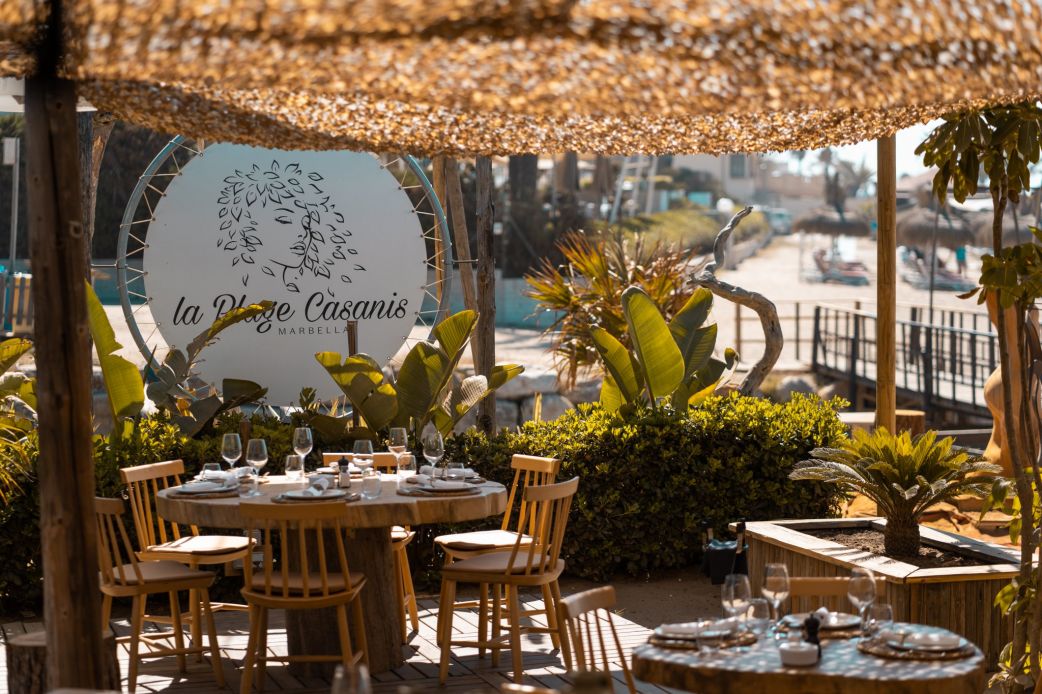 "No reason not to stay all day"
Another successful newcomer, this beach club forms part of the popular Casanis group along with the famous bistro in the Old Town Marbella, and the chic shishi restaurant Mamzel in Finca Besaya on the Golden Mile. Promising "Food, music & love" this beautiful beach club exudes an ambience of relaxed charm with its rustic décor and no-frills chic. Located at Estrella de Mar beach in Elviria, Casanis Playa manages to replicate the bistro feeling brought to the beach.
With some 200 beach beds, this is a large beach club, and as the sun sets on the long hot days in the sun, this is a beautiful place to enjoy sundowners with the mellow Casanis Plage sundown parties.
With a reputation for delicious organic food, and wood-fired grill specialities, also on the menu are the excellent fish in salt, paella and black tagliatelle with pil pil prawns,  rib-eye steak, hamburgers and steak tartare.
The delicious menu also includes succulent salads – including Niçoise, Greek, Tuna Belly and Burrata with Confit Tomatoes. You will also find such delights as Vietnamese rolls,  Tuna Tartare, Salmon & Curry, Wagyu Beef Burger, Steaks and Black Paella.
Properties near La Plage Casanis >>>
5. Siroko Beach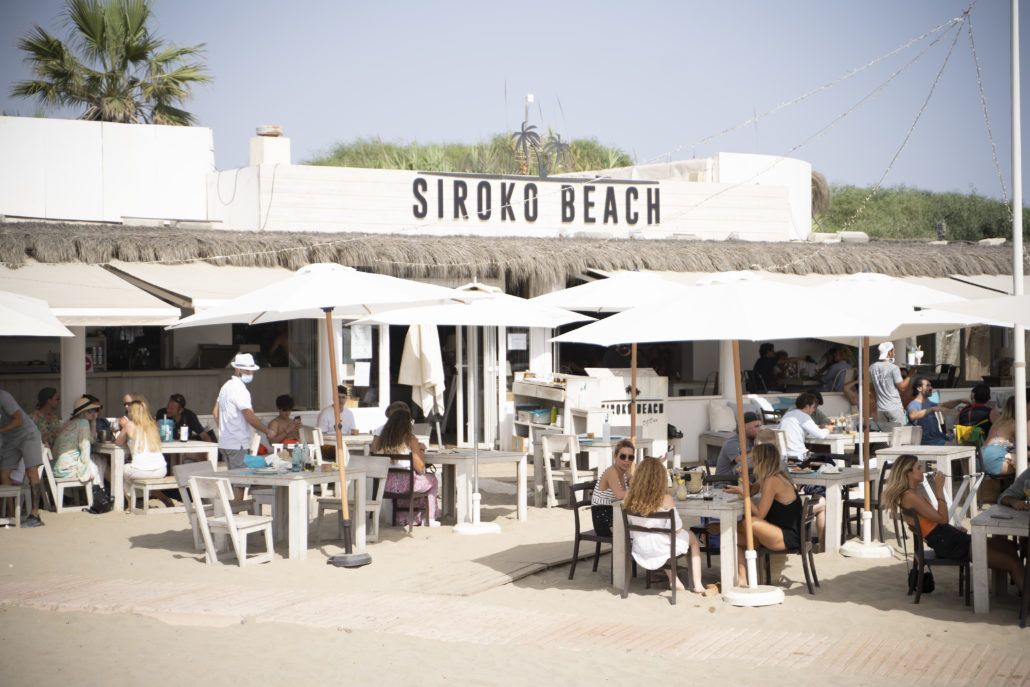 Bohemian Beach Style
Also east of Marbella in the Marbesa nieghbourhood you'll find Siroko a low-key beach club with a relaxed, hippie chic vibe.  Housed in a wooden pavilion, the restaurant itself has high-beamed ceilings and charming rustic furniture which invites you to sit down, relax, grab a drink and enjoy the joys of the beach. Family friendly Siroko has a garden area for children and families to play in and have fun.
The menu is tasty and original. As they profess, "Good food and cocktails – there's nothing like good food to bring people together."
With mouthwatering choices such as Baked Camembert, Moroccan Pastille, Seafood Ravioli, Mushroom Risotto, Pizza and Meat dishes,  the variety of dishes is appealing, as are the cocktails and the selection of wines.
At Siroko, there is live music every day of the year, again varied and they also have their own mix soundtrack.
Open year-round, on a stretch of long, white sandy beach, excellent for walking here you can work up an appetite before lunch or dinner.
6. Luuma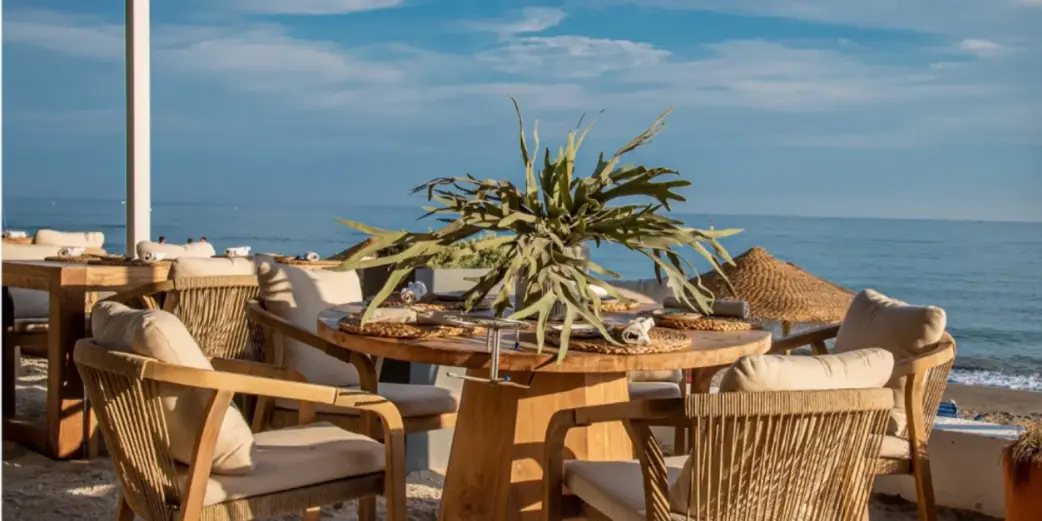 Feel the Sand Between Your Toes
Nestled in the area of Marbesa, east of Marbella – this relative newcomer is a charming and relaxing place to enjoy the beach.
The trendy design is made with natural materials that enhance the beach setting and create natural surroundings with wood, rush matting and exotic plants.Enjoy the beach beds – with the waves lapping on the shore tantalizingly close. Staff will bring you delicious food and drink to enjoy right there on the sand. Known for their friendly "crew", the staff take care of your every need in this bijou beach club.
Open for breakfast, lunch and dinner, you can start the day with a Luuma smoothie bowl with fruit and granola or a delicious avocado toast.
In the restaurant, you also have the pleasure of dining with sand between your toes.  The menu has been created with precision and passion taking into account food trends and international tastes. Among the dishes you will find vegan and gluten-free options.   World cuisine  is integrated with the likes of Belgian Prawn Croquets, Tempura Prawn Bao, Teriyaki Dorada, Thai Chicken Bowl, Caesar Salad, Sushi, Fish & Chips, Seafood Pasta, Burgers and Steak Tartare,
You can also gather with friends and enjoy a drink from the bar while appreciating the sound of the ocean. Their simpático slogan is "Luuma, the reason you smiled today."
Luuma is in our opinion one of the best beach clubs in Marbella East.
7. Marbella Club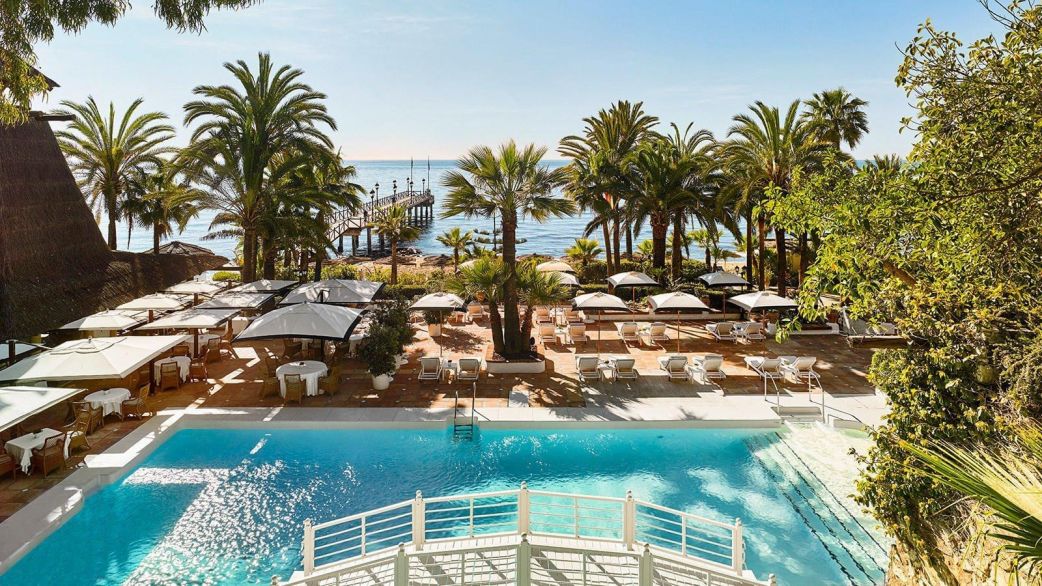 Classic Marbella Beach Style
What could be a more quintessentially Marbella experience than relaxing on the beach at the Marbella Club Hotel, one of the most famous beach clubs in Marbella…? The beating heart of Marbella's Golden Mile, the beach club at this legendary hotel has hosted a wealth of galas, events and happenings during its 6 decades of being the chosen holiday spot of the European jet-set.
The beach club takes in the magnificent swimming pool, and terracotta tiled surround next to the iconic covered and thatched bar and restaurant.
Take a sun-lounger here or if you prefer on the beach next to the attractive pier and hear the waves lapping on the shore…  Your waiter will serve you drinks and snacks, or you can head to one of several restaurants in the hotel. At weekends we recommend you  feast on the legendary weekend buffet of luxurious delights, serving everything from Lobster to Lebanese…
You also have the option to care for mind, body and soul at the hotel spa which is right there in an annex of the beach club, providing a haven of calm and a menu of relaxing treatments to indulge and enhance your senses.
Properties near The Marbella Club >>>
8. La Cabane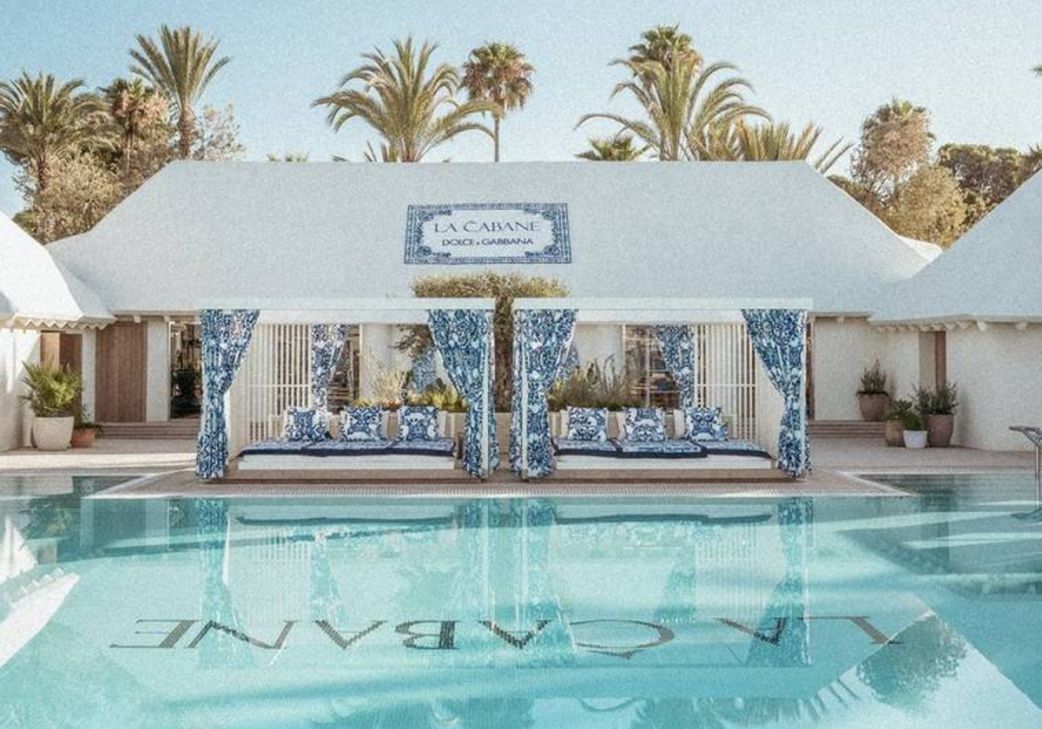 Poolside Chic with Dolce & Gabbana
The large, lagoon-style swimming pool, with the azure Mediterranean beyond gives this beach club a certain wow factor.  Forming part of the long-established Los Monteros Spa & Golf Resort east of Marbella, and just a short walk or buggy ride from the hotel this beach club is one of the classics for holidays in Marbella.
Giving this beautiful beach setting an even more glamorous look for the Summer of 2023 is a collaboration with Italian fashion house Dolce & Gabbana.  The designers have given the beach club a chic makeover, swathing the venue in luxurious blue and white drapes, cushions and sunbeds.  Making La Cabane even more on trend is a collaboration with Dani García, the enfant terrible of Marbella's fashionable food scene. After the branded residences, we now see branded beach clubs in Marbella gaining more and more popularity.
Here you can choose from a variety of beach beds, some made for two – and be indulged by a personal waiter with fruit platter and long, cool drinks.  From there you can choose to look out over the pool or feast your eyes on the serene beach scene at your feet.
Aside from enjoying the beach and the pool, you can order a mouthwatering selection of dishes devised by the talented Señor García from the adjoining bar areas, and at weekends you can take advantage of one of the best hotel buffets in town with more than 60 dishes to feast on.
To enhance your relaxation, you can also pre-order a beachside massage.  And as day turns to dusk, you may find La Cabane offers a special event with dinner, music and dancing.
9. La Sala By the Sea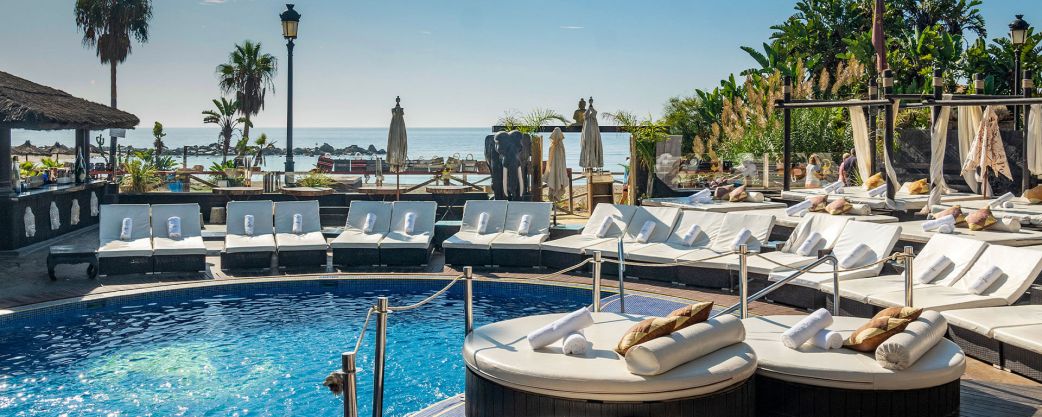 Bijou Banús Beach Club
Centred around a circular swimming pool, this popular beach club is always buzzing.  Frequented by a party-loving crowd, you come here for parties, live music and DJ session and the upbeat Banús vibe.
La Sala has a reputation for good food at reasonable prices. The varied menu offers such mouthwatering options as Smoked Salmon Salad, Sushi Platters, Char-Grilled Fillet Steak, Buddha Burger and dishes with a Thai and Asian twist such as the Thai Red Curry and Crispy Duck with Pancakes.  A full cocktail menu and a good selection of wines and champagnes makes for fun and memorable celebrations.
Brought to you by the Sala Group – La Sala restaurant in Nueva Andalucía is one of the top social hubs in town. With several bars, frequent drinks promo days and themed parties, the brand's beach club is a fun venue in the heart of the Nueva Andalucía and Puerto Banús social scene. See their website for a full schedule of weekly and monthly events.  The club also does regular promotions such as their 2-course lunch for just 25€.
With the added advantage of a spa for massage, beauty treatments, this bijou beach club is very popular with holiday-makers and residents alike. A must visit when you are looking for beach clubs in Marbella!
Properties near La Sala By The Sea >>>
10. Salduna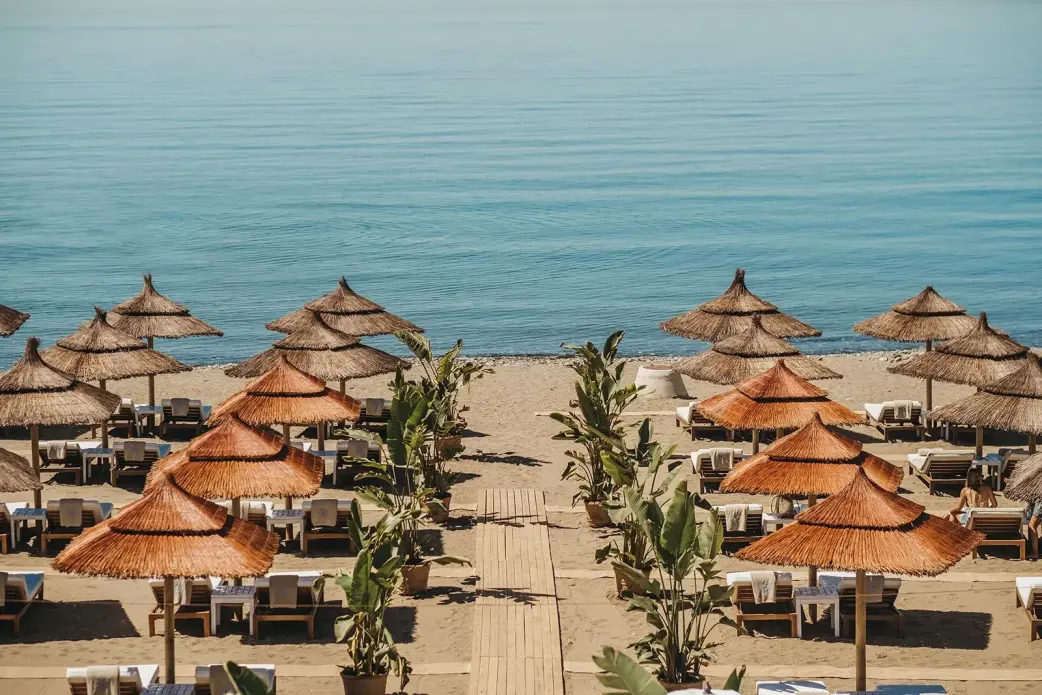 A Chillout Classic
West of Marbella, in the well-established residential neighbourhood of Benamara you will find the discreet beach club Salduna.  This is one of the classic beach clubs in the Marbella area . Occupying a tranquil location flanked by a wooded area, and bordering the sand dunes, this stylish venue describes itself as a "charmingly versatile place". Quietly sophisticated, Salduna  takes the concept of a beach restaurant  to the next level.
With a low-key vibe, the harmonious décor sets the scene for a relaxed day on the beach.  Comfortable beach beds stretch out over the sand, while a chillout area invite you to relax and spend time in the shade with classic deck chairs, comfy sofas, pergolas and sail sunshades – the perfect setting for sipping a cool drink and catching up with friends.
Salduna's main restaurant area is set out on a chic wooden deck. There's also a shop for bohemian style beachwear and a romantic covered roof terrace for sundown dining on the upper deck. From here you have dreamy views across the sand dunes, the Mediterranean, Gibraltar and Africa beyond.
The menu also takes classic beach dishes to another level. The mouthwatering menu features some welcome  fusion additions such as hummus, ceviche and scallops. Here you can savour oysters and delicious paellas and fideua dishes replete with the freshest seafood.
With low-key live music, Salduna is also available  to hire as a private events venue.
The Best Beach Clubs in Marbella:
Nikki Beach
Fendi at the Beach – Puente Romano
Ocean Club
La Plage Casanis
Siroko
Luuma
Marbella Club
La Cabane – Dolce & Gabbana
La Sala by The Sea
Salduna