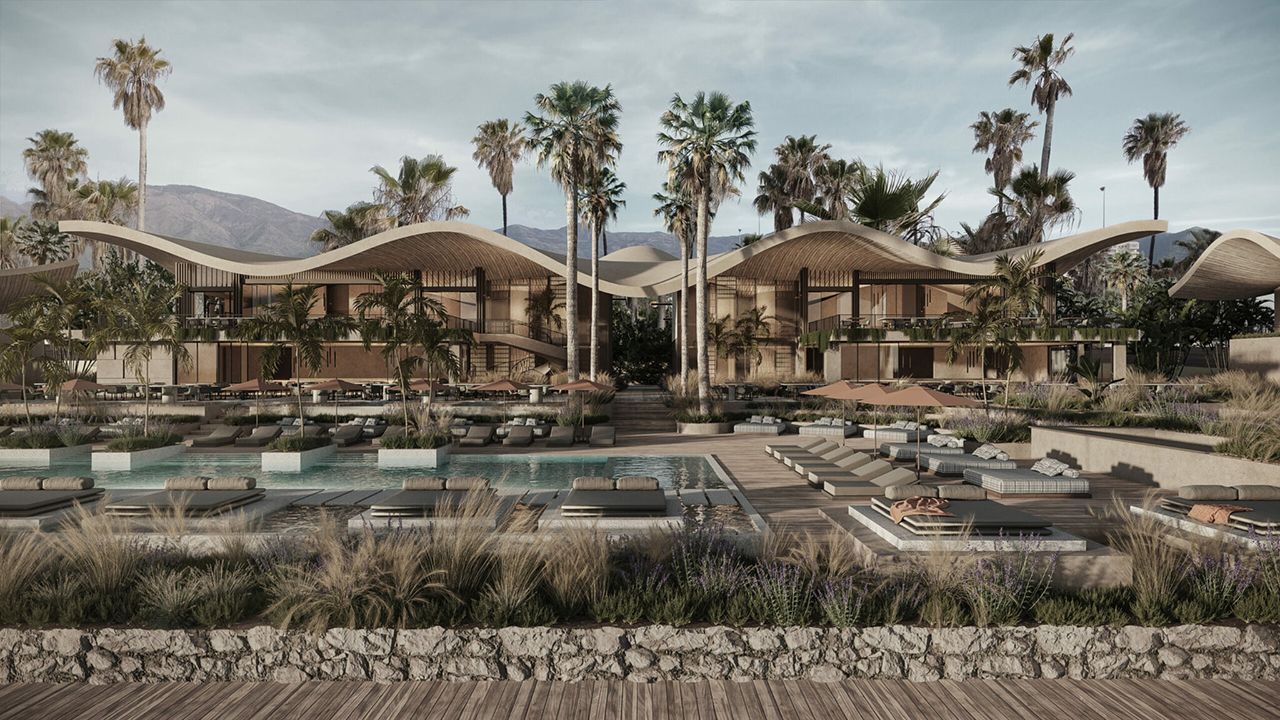 Laguna Village 2.0 Estepona – A New Luxury Experience
Aug 22, 2023
Estepona Awaits the Launch of the Revived Luxury Retail & Leisure Complex
Expectation is growing around the new incarnation of the luxury retail complex Laguna Village, which will be known simply as Laguna. Located close to the town of Estepona, the exciting new frontline beach complex promises to become one of the key hubs in southern Spain for luxury retail and leisure.
Risen from the ashes of the former leisure and shopping complex, which perished in a fire in 2020, the new version of Laguna Village is a joint venture between GAT investments and Grupo Pacha – both heavyweights in the creation of state-of-the-art retail and entertainment venues in Spain.
Leading the project is Spanish empresario Rosauro Varo, a young entrepreneur with an impressive portfolio of businesses and a major shareholder in several of Spain's leading companies. Married to actress Amaia Salamanca, once up and running, the new Laguna Village is destined to become one of the major hubs of the social scene on the south coast of Spain.
With an estimated investment of 25 million euro, the second incarnation of Laguna Village, Laguna covers 13,000 m2 of prime frontline beach land. Incorporating the latest technology for energy-efficient construction and is designed to be both eco-friendly and in harmony with the natural surroundings. Just metres from the beach, close to the Kempinski Hotel Bahía Estepona, this project is a major boost to the revamped image of Estepona, now competing favourably as one of the top resorts in Spain for quality tourism.
Extensive renovation to the historic centre has conserved the authentic character of this quaint Andalusian town, enhancing its cobblestoned streets and buzzing streets and squares with chic boutique hotels and smart cafés and restaurants.  With an impressive, largely pedestrianized seafront promenade, Estepona's beaches stretch for 23 kilometres.
Properties for sale near Laguna Village 2.0>>>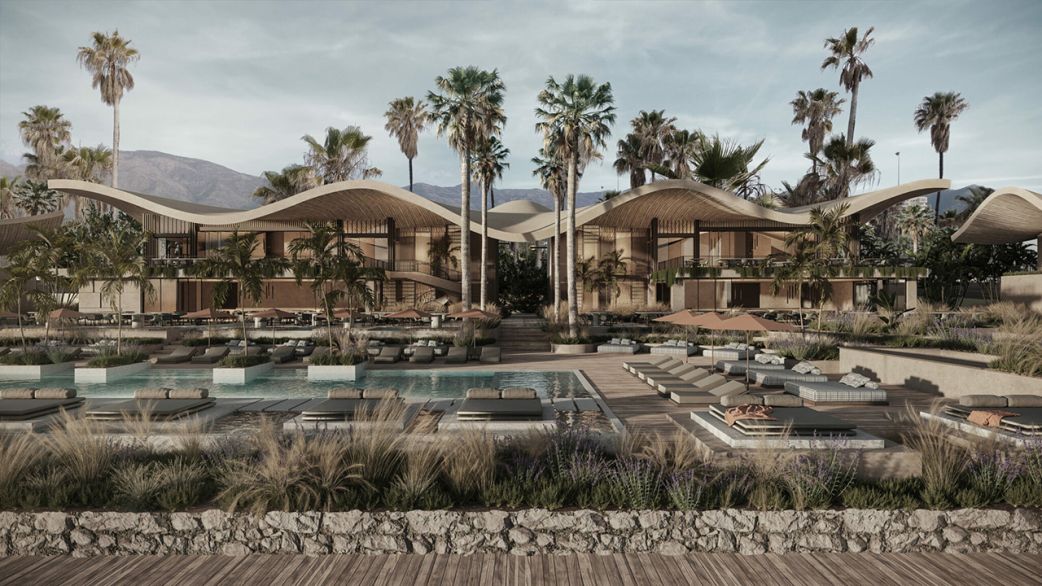 Luxurious Laguna Village
Just 4 kilometres east of Estepona town, comprising an impressive commercial centre, the architecture of the new Laguna Village takes inspiration from the oceanfront location, with a wave-like structure soaring up into the sky, the design is also a nod to the undulating mountainous backdrop of the Sierra Bermeja. Not only is this feature aesthetically pleasing, but it also prevents direct sunlight from heating up the commercial centre, thus reducing the need for air-conditioning.  Featuring wood and stone, the eye-catching avant-garde complex is sure to attract visitors from far and wide.
This new leisure space is built over two levels and will include high-end shops, trendy restaurants, a yacht club, and a children's play area, all overlooking a vast infinity pool parallel to the Mediterranean beachfront.
The new complex is sure to attract a number of leading brands among the shops and restaurants making up this unique leisure  and retail space; where better to spend a day relaxing by the pool, enjoying lunch and some retail therapy followed by sundowners in a beautiful place with the most spectacular views to the Mediterranean.  Bringing their world class entertainment venue expertise to Laguna, the Grupo Pacha will create a venue that offers food, music and shows – similar to their Lio venues in Ibiza, Mykonos and London, so expect to be entertained in style.
Generating approximately 800 jobs, and employing 250 people in the construction phase, the new Laguna Village will be spectacular and provide an excellent boost to the local economy, while enhancing Estepona's status as a destination for quality tourism.
Estepona has managed to retain the authentic charm of a quaint Andalusian town, while sensitively revamping the historic centre. With a plethora of narrow white-washed streets complete with cobblestones, and a maze of squares dotted with fountains and shaded by palms, Estepona is now home to a selection of appealing boutique hotels and exciting eateries.
Floral displays and dramatic street art and giant murals add to the colourful, welcoming ambience of this popular seaside town which is now competing favourably with other top resorts in Spain for quality tourism and per capita spend. The newly inaugurated Mirador del Carmen is an impressive tower housing a 15-storey library, music school and cultural centre. Showcasing works from the Thyssen collection, this space will become one of the leading venues for the cultural life of the western Costa del Sol.
Just metres away from the old town centre  of Estepona are the long, wide, sandy beaches with stunning views across to Gibraltar and Africa beyond.  The launch of Laguna in the coming months will transform the quality of luxury leisure on offer in Estepona.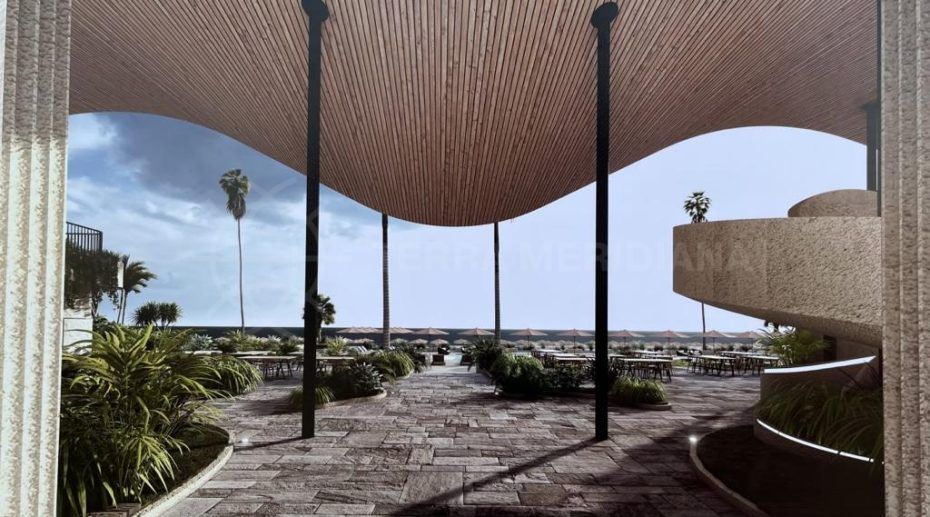 Due to open in the coming months, Laguna Village 2.0 is located on Crta. de Cádiz, km 159, 4 kilometres east of Estepona town.