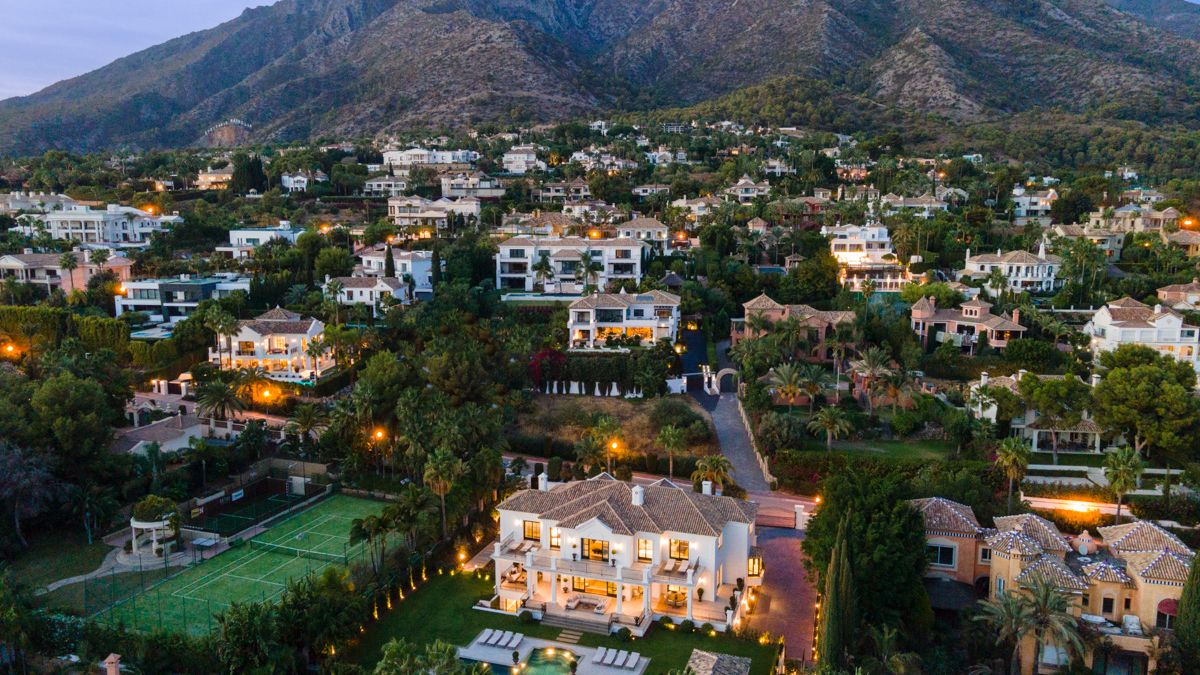 The 5 Best Gated Communities in Marbella
Jan 16, 2023
Entering the Golden Gates
While gated communities proliferate on the Coast's of Spain, the "gated community" is largely unfamiliar territory to buyers coming from northern Europe. In Marbella, there are dozens of gated communities offering unparalleled levels of luxury and leisure… Let us tell you all about the gated communities in Marbella…
Think lush tropical gardens, luxurious lawns, large swimming pools shaded by avenues of palms, sheltering stylish villas, trendy townhouses or a series of attractive apartment buildings… Add to this a state-of-the-art gym, a co-working space and gastro-bar, and you are getting the picture of the modern gated community here in Marbella.
How about driving through electric gates onto a private road winding its way around a golf course, with neat rows of townhouses overlooking the glorious greens? You may even have private buggy access on to the course, not to mention a clubhouse offering you a "ready-made" social life just a few minutes from your front door…
By definition, a gated community is a development surrounded by a large perimeter wall or fence, with one or two access gates with barriers many with a security hut and security guard. In order to enter residents will need an access code or key and be
formerly identified to the security staff, as will their guests and any tradesmen entering the complex.
Gated communities make up a large proportion of properties in Marbella.  Why is this?
Marbella was little more than a small fishing village until the 50s when the legendary Marbella Club started attracting the world's jet-set to holiday and settle in the area.  With the advantage of space, and affordable land, developers could create spacious "urbanizations" with large gardens and pools. As time went by, these developments became more security conscious, and following in the footsteps of gated communities in the USA, by the 80s, complexes encased in walled and gated gardens started to proliferate.
Are gated residences are, by nature grand – even elitist…? Certainly, gated addresses suggest status and exclusivity. However, in reality, the gated community is an ingenious way to bring security and exceptional facilities to a larger number of property owners as communal costs are shared.
A gated community may be more affordable than you might imagine… as the cost of maintaining a manicured garden, a beautiful swimming pool, underground car parking, 24-hour security and house maintenance team can be spread among members of the community of owners…  The gated community allows you to enjoy the spoils of a luxury lifestyle while sharing the costs…
And it is not just the costs that are reduced, but the practicalities of for example, cleaning and maintaining a private garden and swimming pool if you own an independent villa.  In today's Marbella, there are many gated communities encompassing villas and townhouses, not just apartments, in which a private pool and garden will be maintained by the community, with the cost included in your annual community fee arrangement.
The advantage of the gated community goes way beyond the shared costs of the shared facilities… Read on for the top 10 attractions…
Privacy/safety – reduce break-ins by an average of 30 percent.
Entrance restricted to residents and expected guests & tradesmen.
Shared facilities – and shared costs of running swimming pools and maintaining landscaped gardens, gyms and clubhouses.
Security guards & vigilance cameras.
Less traffic as cars are restricted by the entrance barriers and, when allowed access, they are directed to garages and parking areas – nowhere near gardens.
A gated community is closed and safer for children playing. Many communities have lifeguards at communal pools during the summer months.
Shared interests among the owners – especially on golf course communities. Golf communities also offer advantages on golf course membership fees. Many buyers opt to live on a golf course community as the views are protected.
Properties in gated communities are statistically proven to hold their value and appreciate more than non-gated properties.
A gated community is the best option when buying to "lock up and go" a major consideration for part-time residents remote working, buying a holiday home or an investment property to rent out.
Gated communities are proven to be some 30 per cent secure than non-gated properties with 33 per cent less break-ins.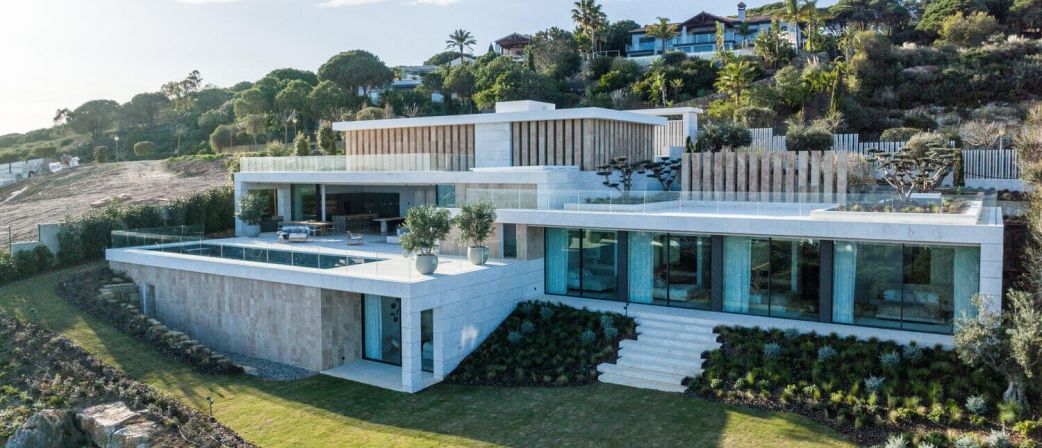 While there are many advantages in choosing to buy a property in a gated community,  rather than an independent villa, finca or town apartment, there are naturally a few down sides.
First and foremost, as the communal areas such as gardens, pools and security are maintained and financed by monthly community fees paid bi-annually by the owners, the community has to be well managed, by a President of the Community voted in by the community of owners.
Each community has its own regulations to be respected by the owners – to maintain harmony among the residents living in close proximity, some of the drawbacks come from people choosing to ignore the guidelines.
Typical community rules apply to pet ownership, use of pools, noise regulation -especially at night, parking, and renting out properties for holiday lets, particularly Airbnb, which is not allowed in certain communities.
You could argue that paying a community fee monthly is a disadvantage if you are not using the property full-time – but you could also view the fee as a type of insurance.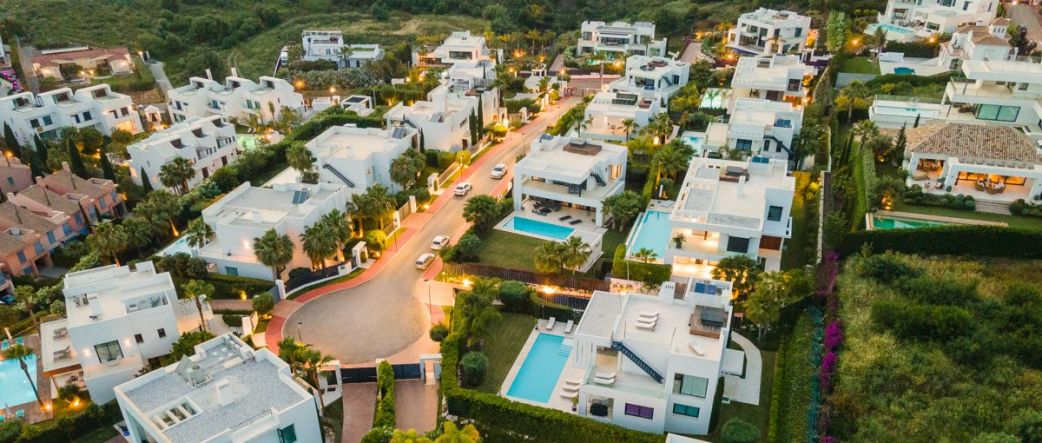 Ultra Luxury Gated Communities
Communities have existed in Spain since the '80s – first one in Marbella was El Ancon on the Golden Mile – and as Marbella continues to position itself as one of the top luxury destinations in Europe, with increasingly luxurious housing and upscale leisure facilities, the gated community is more prevalent than ever.
The wealthiest havens in the Marbella area are even double gated, with stringent security measures. Take La Zagaleta  – a magnificent private estate emulating the best country clubs around the globe, visitors to this piece of paradise in the hills behind Marbella must prove their identity to be allowed through the gates.
Close by is the beautiful neighbourhood of El Madroñal – just 5 minutes from Marbella,  classic mansions dot the hillside, while gated entrances  to private roads prevent intrusion from uninvited guests.
Further west – in the hills behind Benahavis, Monte Mayor Golf & Country Club is another private estate, surrounded by nature, with the advantage of gated security.
Within the environs of the town of Marbella itself, the smartest neighbourhoods include Sierra Blanca, Cascada de Camojan and Altos Reales – all double-gated to provide maximum peace of mind to residents residing in multi-million euro villas, mansions and premium apartment complexes.  Such communities have security cars patrolling night and day, keeping an eye on the neighbourhood.
Our 5 favourite gated communities in marbella:

The trend for gated communities in Marbella – with clear advantages for home owners – is well established and most new developments with communal facilities are now gated; developers see the advantages – and selling point  – of offering gated residences even for small numbers of properties, such as complexes of just 4 to 6 villas.
With security and peace of mind taken care of, residents of gated communities can concentrate on the main reasons for choosing to buy a property in Marbella; enjoying the year-round sunshine in well-tended tropical gardens, swimming in pristine pools, remote working in the communal co-working space, relaxing at the communal indoor pool and spa or enjoying a drink with neighbours at the "in-house" gastro-bar.
The gated community  – a phenomenon first seen in Marbella in the 1980s has evolved along with every aspect of the resort. More than just a secure property investment, this particular style of residential living is synonymous with the very best in leisure facilities on offer in Marbella.
And with gated properties at varying price points in the Marbella area, we would be delighted to show you the best selection within your budget.