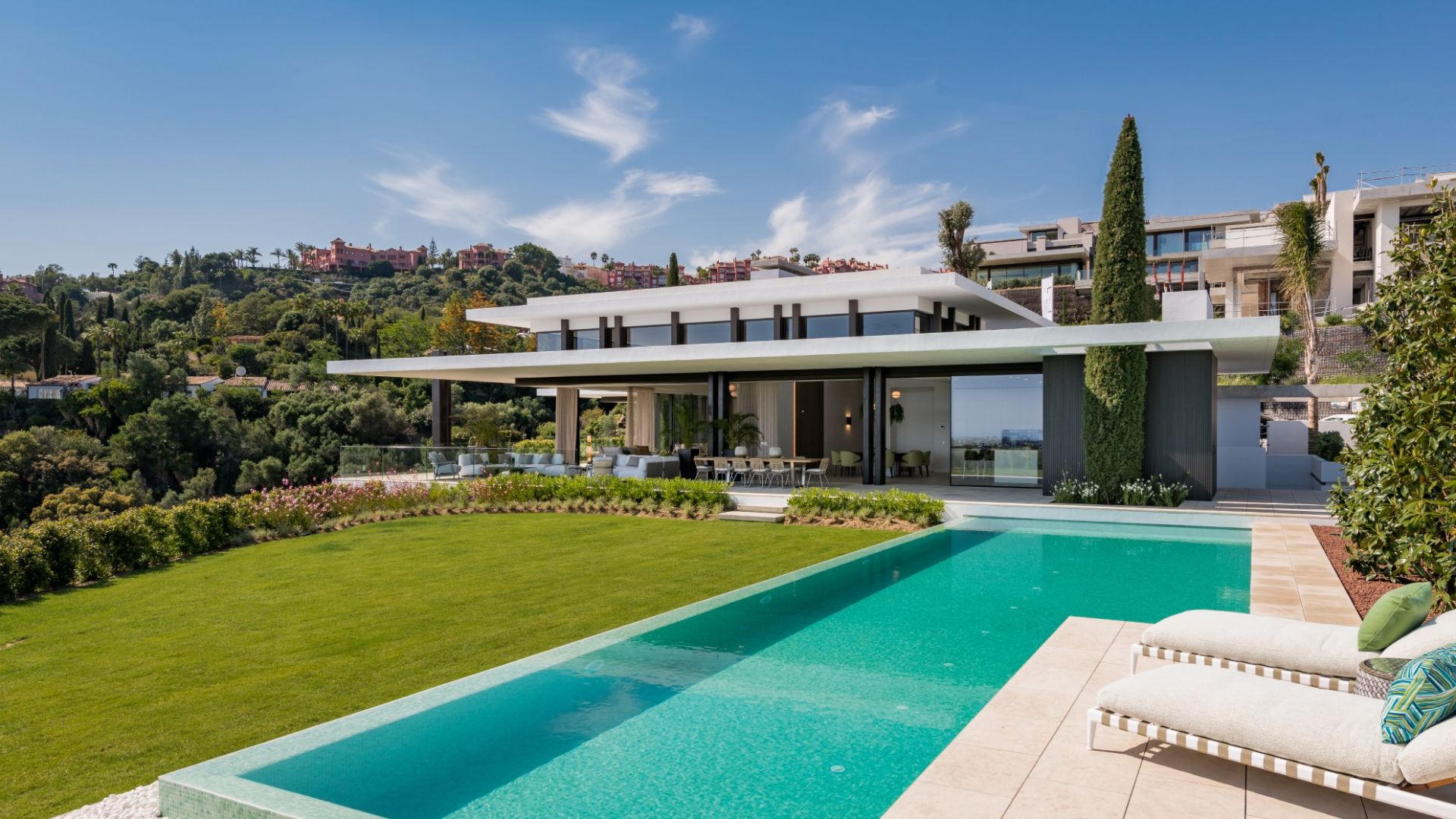 Marbella Real Estate – Continuing to Thrive in 2022
Jul 13, 2022
As 2022 gets underway, and the New Year sun is shining down on Marbella, after a year of remarkable recovery in 2021, what can we expect of the thriving luxury property market here on Spain's Costa del Sol? Report: Louise Cook-Edwards
In 2021, despite travel restrictions, economic uncertainty, lower visitor figures, and attendant difficulties in viewing properties, the Marbella property market continued to thrive, with recovery particularly evident in the new build and ultra-luxury sectors.
If anything, post pandemic, unique lifestyle factors offered by the upscale resort, are driving interest in the Marbella property scene. Lockdown has led many city dwellers to seek out healthier alternatives, creating the desire to live a healthier, outdoors lifestyle, with gardens, terraces and sports facilities top of the list of desirable factors when choosing a property. Meanwhile remote working has opened up the possibility of geographic flexibility in order to work internationally from a location that offers a more leisurely lifestyle.
Naturally, with its unique microclimate, an average of 300 days of sunshine a year, and luxurious leisurely lifestyle, 27 kilometres of beaches, a plethora of beautiful golf courses, tennis clubs and sports facilities, excellent air quality, a higher than average quota of trees, parks and green space, security and modern infrastructure, Marbella ticks many of the boxes modern-day professionals and families are seeking for quality of life.
Why Choose to Buy Property in Marbella?
With 1 in 4 residents in Marbella hailing from other countries – no less than 140 different countries making up 26 % of the resident population to be precise – Marbella has a thriving international community and infrastructure adapted to international tastes, including excellent international schools, dozens of clubs, societies and interest groups welcoming international citizens, along with a wide range of international professionals to service the needs of the various nationalities, making integration a smooth process.
Property continues to be a safe asset – and coupled with new lifestyle choices, homes in Marbella were selling throughout the pandemic as families decided to move to coastal areas, buy a second home, while international families opted to relocate to Spain for a new, healthier lifestyle.
Investment from two of the biggest hotel brands globally, the Four Seasons and the W group show, and the soon to be relaunched Club Med, are a sure sign of international confidence in Marbella as a 5-star Mediterranean resort.
Such investments are made possible by the proximity of international airports, with Malaga airport just 45 minutes' drive away, and Gibraltar airport at an hour's drive. Fast internet speeds enable remote working in most areas of the Costa del Sol – while the city of Málaga is actively promoting the province's capital as a hub for "nomadic" remote workers.
Marbella Property: Looking at the Bigger Picture
Sales figures at the end of 2021, were the best since the peak of 2007, with a total of
527,000 homes sold in Spain last year. And even better news – Spanish property prices are still almost 30 % lower than the high of 2007. Not surprisingly, a further 500,000 are predicted to change hands in Spain in the coming 12 months.
Nationalities Investing in Marbella
With 140 nationalities among those officially registered as residents in Marbella, foreign investment is still driving the luxury market in the resort.
Of the foreign buyers investing in property on the Costa del Sol, despite Brexit, the highest percentage is still British, historically the strongest market for homes along the Spanish Costas) followed by French, German, Belgian, Italian, Swedish and Dutch buyers. Also making in roads are Moroccan, Russian and Chinese buyers opting to purchase property on the Costa del Sol.
According to figures provided by Spanish notaries handling property transactions in 2021, based on price per square metre, the nationalities investing in the most expensive properties are the Swedish, Danish and German buyers.
"The most expensive property sold in Marbella in 2021 was a spectacular
10-bedroom, modern mansion which changed hands for 40 million€"
The Golden Triangle: Marbella, Estepona, Benahavis
It's official: the luxury property sector in Marbella could not be healthier. The so-called Golden Triangle of towns – Marbella, Estepona & Benahavis are among the locations in Spain commanding the highest property prices per square metre.
In the province of Málaga – property purchases made in Marbella, Estepona & Benahavis alone accounted for 21 % of total sales for the whole province.
3 districts in Marbella represent the highest price rises per square metre in the whole of Spain: Los Monteros (22% rise) Nagueles (41%) and Las Brisas (38%). Add to this the Guadalmansa area of Estepona – with an increase of 33.8 % on price per square metre 2019ñ 2021, and the Costa del Sol boasts 4 of the most expensive districts in Spain's Top 10. At NCH Dallimore Marbella, we can help you source building land and properties in all of these leading areas. (Link to Las Brisas plots).
Properties for Contemporary Luxurious Living
The quality and variety of luxury property currently available in Marbella is outstanding, rivaling any top luxury resort in the world. Marbella's "White Revolution" the trend for developers to offer quality contemporary properties over the last decade is nothing short of remarkable; some 200 new developments are currently underway along the Costa del Sol – with many in the Marbella area. This wave of modern housing, in the main offering open-plan living space, sea views and luxurious facilities including swimming pools, gymnasiums and co-working spaces, has attracted a new wave of younger buyers, with the age of those investing in property in Marbella averaging 42 years old, with remote working professionals and young families leading the way.
Add to this the sheer volume and variety of unique contemporary luxury villas, created by Marbella's "starchitects" and not surprisingly, Marbella has become a focus of attention by wealthy investors seeking out the best properties in locations that offer enjoyable assets along with good return on investment.
Build Quality & Design
New builds make up approximately 20% of total property sales in Spain, and developers can barely build fast enough to keep supply of new homes up with the demand.
The more affordable new builds in the best locations continue to be snapped up fast off-plan. Quality and design are watchwords when it comes to new builds, and this is especially important when buying off-plan, which is where expert real estate advice can prove invaluable.
New builds at the higher, luxury end of the market are also selling fast, and the trend for turnkey, bespoke properties is driving up prices for land and plots, as discerning buyers prefer to buy a home created in the exact location of their choice, and designed according to their own requirements, specifications and tastes. See our selection of bespoke, turnkey Deluxe Designer Villas. (link)
Sustainability and energy efficiency are also key considerations in the purchase of properties – a factor that will gain in significance as new legislation in Spain is set to prevent the sale or rental of buildings with low energy efficiency.
Developers are designing new builds with all the latest materials and technology to create energy efficient homes as well as a "lock up and go" facility which lends itself perfectly to international remote workers investing in property in Marbella.
Why Buy in 2022?
Spain's economy is expected to expand by 4-5 % in the coming year, while the country has just received 70 billion euro in recovery funds from the EU which will be allocated to investment and reforms that underpin the green and digital transitions necessary to modernize business and infrastructure in Spain.
According to Fitch, and various Spanish banks, property prices in Spain will stabilize in 2022, with an expected rise of an average 2-4 per cent, considerably lower than other EU countries where escalating prices may lead to unrealistic property price bubbles.
And it is not just cash buyers urged to purchase property sooner rather than later. Extremely low cost of mortgages in Spain – with interest rates currently at 1.5% – means the cost of borrowing is affordable and stable. With 26,570 new loans approved in 2021, this is the highest number of mortgages secured in Spain for 14 years.
Property transfer taxes were lowered in 2021 by 3 % to 7 %, while stamp duty was reduced from 1.5% to 1.2 %. This reduction is being carried over into 2022.
Having virtually eliminated inheritance and gift tax on properties in 2019, Andalucía's regional government has made the region one of the most attractive places in which to invest in property in the present day
10 Factors Driving Demand for Property in Marbella in 2022
Unique microclimate offering some 300 days of sunshine each year
Volume & variety of luxury properties & lifestyle options
Choice of property types & location; sea, golf, town
apartment/villa/townhouse
Outstanding variety of quality contemporary homes
Pricing: quality properties ranging from 250,000€ to several million
Outdoor lifestyle, leisure, sport, golf
Excellent Spanish & international gastronomy
Marbella has higher than average green space per capita
International community/international travel options
Rental potential – with thousands of properties rented both long and short term, Marbella property has higher than average rental potential. Luxury rental villas in the best beachfront and golf locations can prove highly lucrative for the owners.
In polls of EU countries, Spain scores higher than average (50%) for the Happiness Factor, with 73 % of people in Spain affirming they are happy.
With 30 years' experience in the luxury property market on the Costa del Sol, NCH Dallimore Marbella can assist with all your property needs. We look forward to your enquiries.