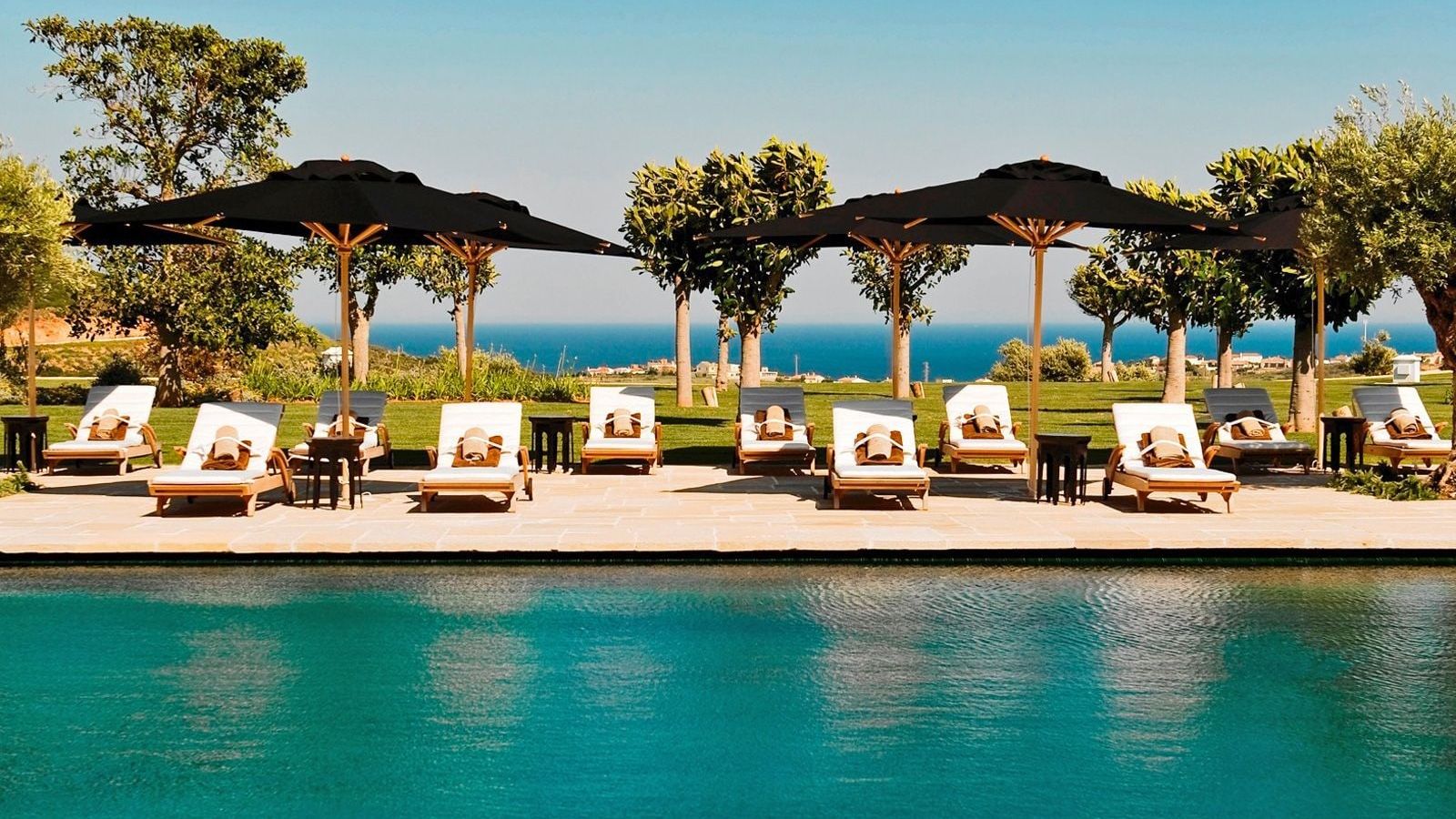 LUXURY PROPERTY IN MARBELLA
Jun 19, 2023
Which Factors are Key?
NCH Dallimore Marbella has been purveying luxury real estate in Marbella for more than 35 years.  Over that time, the resort has experienced stratospheric development, and the very concept of what constitutes a luxury property in Marbella has evolved… Let's take a look at what defines luxury property in Marbella today.
The promise of Luxury property in Marbella is ever present , but how exactly do we define luxury?  Whether it's property, fashion or lifestyle, there are always levels in terms of luxury… accessible, intermediate and inaccessible…
This is certainly true of luxury property in Marbella, and as real estate agents purveying luxury properties to a discerning international clientele,  NCH Dallimore Marbella can help you source a luxury property whatever the level of accessibility…
Marbella: the home of Contemporary Luxury Property
Thanks to the creativity and ingenuity of architects and property developers in Marbella and select areas of the Costa del Sol,  a new wave of contemporary luxury property has captured the imagination of international home buyers creating an unprecedented rise in the number of luxury properties being built and sold.
Global trends for remote working and the desire to live in a healthy environment have sparked demand and there is no sign of a slow-down…
Of course, buying a home is about much more than just the bricks and mortar, and when it comes to luxury property, factors such as exclusivity, comfort, ROI and the status it confers on the owner are key. While all relevant considerations, here in Marbella, there is one overriding, defining element – and that is the level of luxury lifestyle the property offers its residents…
In Marbella, think healthy outdoor lifestyle, close to the beach, golf and a holiday vibe, great restaurants, a vibrant Mediterranean diet and an active way of life in the sunshine – all good reasons attracting people to move to Marbella, or invest in a second home or holiday home in the resort. Add to this all the facilities now provided by the new contemporary homes in the area and a luxurious lifestyle is guaranteed.
Contemporary Luxury Living in Marbella
Property in Marbella has evolved dramatically in the last 20 years.  From classic Andalusian style, pretty white villas with terracotta tiled roofs and iron railings, a whole new class of contemporary new builds has emerged. Characterized by clean lines, multi-volume shapes, light, bright, spacious open-plan interiors with integrated infinity pools and an abundance of floor-to-ceiling windows, Marbella's modern architecture is world class.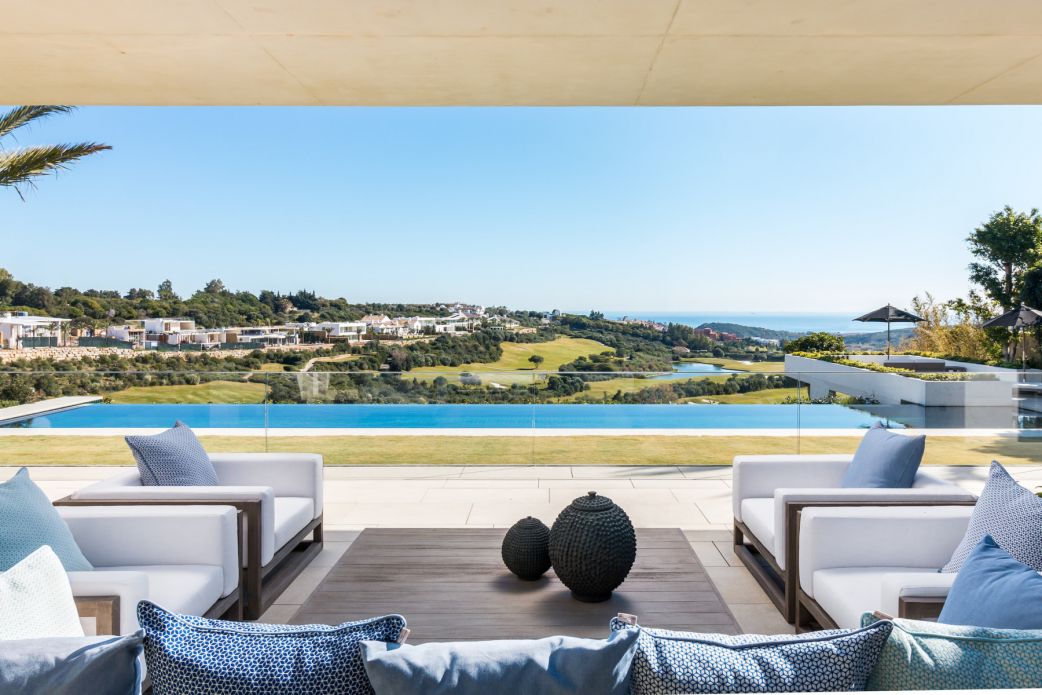 Bringing the Outside In
The trend is for ultra-modern interior design that cleverly blends interior and exterior spaces, sleek kitchens and inviting bathrooms, energy efficiency, large terraces for outdoor living, home offices, communal gardens and swimming pools. Developers have created a trend for contemporary homes perfectly adapted to the year round sunshine and mild climate and this enviable lifestyle can be yours for the price of an average home in northern Europe…
Set within beautiful landscaped gardens with swimming pools, contemporary developers have gone a step further providing  luxurious facilities such as gyms, spas, indoor pools, co-working areas and social areas with gastro-bars, and Marbella has created a trend for homes that offer a lifestyle that buyers fall in love with…
Many such homes have been created by inspired developers and private investors refurbishing and renovating existing villas in the best locations; for example, in frontline beach and frontline golf plots, giving properties a new lease of life, adding in every luxury while turning a superb ROI with lucrative short-term holiday rentals or selling on at impressive profits of 30 per cent plus.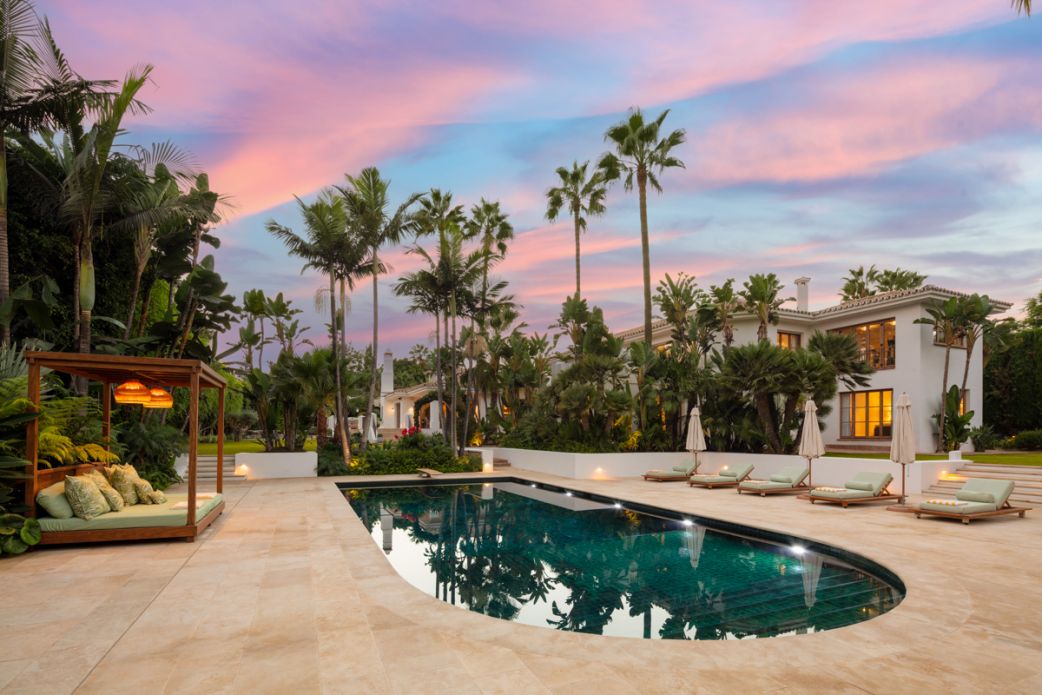 Health is the new Wealth
Global trends for healthy outdoor living, and spacious, enjoyable surroundings for remote working entrepreneurs and professionals have driven the trend, while the number of "accessible" luxury properties has allowed home buyers to buy into a luxury lifestyle that would otherwise be out of reach.
While "luxury property" is generally considered the top 10 per cent of the market – in Marbella, with an abundance of luxury villas ranging from approximately 1 million euros to upwards of 30 million,  it is safe to say that luxury property constitutes a much higher percentage of the market than average.
What Characterizes a Luxury Property in Marbella?
The number one priority has always been location, location, location… Marbella is unique in Spain owing to the sophistication and variety of its housing market and outstanding natural beauty.  With 27 kilometres of beaches, a renowned leisure port, a wealth of golf courses, the quaint Old Town and luxurious enclaves such as the Golden Mile, Sierra Blanca and Nueva Andalucía, one of the prized factors in defining luxury real estate in Marbella is a sea view.
Access to a stunning sea, mountain or golf view is highly coveted and affects demand for, price and saleability of properties in the area. If a luxury property is walking distance to the beach and main amenities and leisure facilities, this also raises its cachet.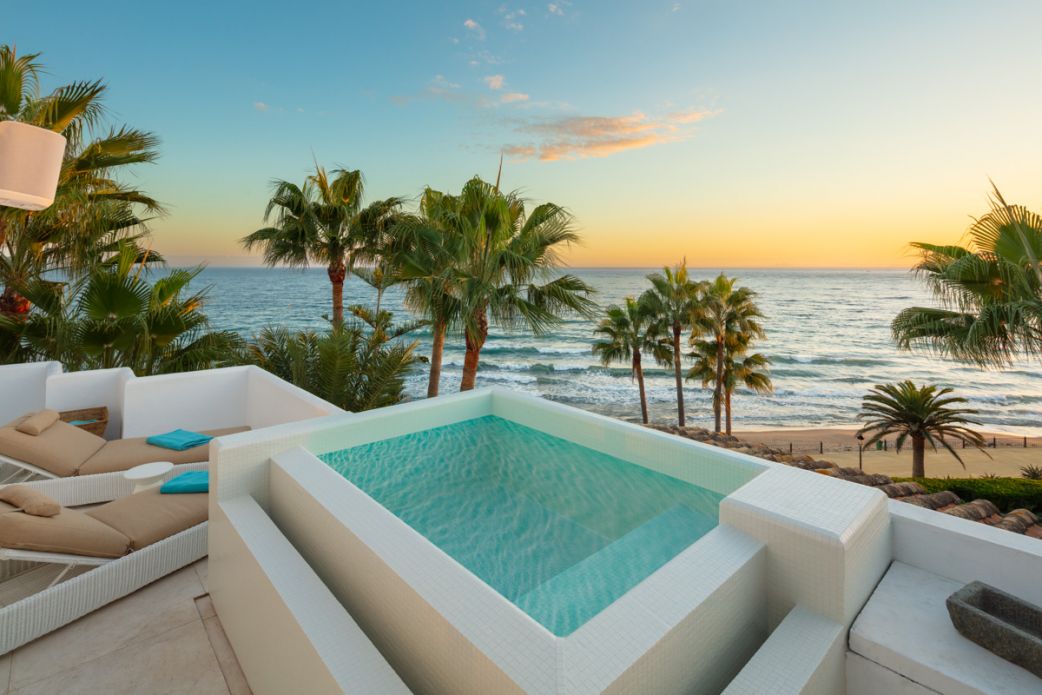 Luxury Property in Marbella – The Features
In Marbella, the sky seems to be the limit, with properties that satisfy the client's wildest dreams.  Much more than just location, unique architecture, sumptuous interiors, the latest technology and every luxury and toy on the market…
We are talking spectacular double-height living space, dramatic lighting, gourmet kitchens, lavish dining rooms, spa like bathrooms – and actual spas with saunas, steam rooms, treatment rooms and hair salons.  Multiple bedroom suites with luxurious dressing rooms and gorgeous bathrooms are a must -particularly for properties designed with luxury summer rentals in mind.
Leisure is Served
Many new build and renovated Marbella villas include customizable basements that can be fitted with indulgent games rooms, elegant bars, home cinemas, spas, gyms, wine cellars and staff accommodation. Add to these luxuries glass-fronted garages to showcase luxury cars within the leisure centre of the home and you get the picture…
Outdoor areas of the home have evolved too.  Alongside stunning swimming pools and infinity pools, you will frequently see refreshing waterfalls and water features, spacious terraces with wooden decking, al fresco dining areas, barbecues and outdoor kitchens, sunken chillout spaces and solariums that can rival that of a boutique hotel and which are perfect for entertaining.
The most luxurious properties often include a separate guest house or a guest wing, exuberant landscaped gardens and long, leisurely driveways and garages for several cars.
Most new properties are created within secure, gated communities, with 24-hour security and alarm systems, while fingerprint biometric recognition is commonplace in the most luxurious, expensive properties.
Combine this with the leisure on offer in Marbella and the result is a totally elevated modern Mediterranean luxury living experience.
Unique Charm
Finding a home with a unique character and charm is one of the principals defining luxury property in Marbella. While the trend for stunning modern luxury villas is ever-present, what defines Marbella's villa market is variety. With everything from classic Andalusian, cortijo-style villas, modern, clean lines, to state-of-the-art designer, to ultra luxurious, neo-classical mansions displaying the most opulent styles of architecture  – originality is served. Whatever your taste there is a luxury villa for you, within a wide range of budgets too.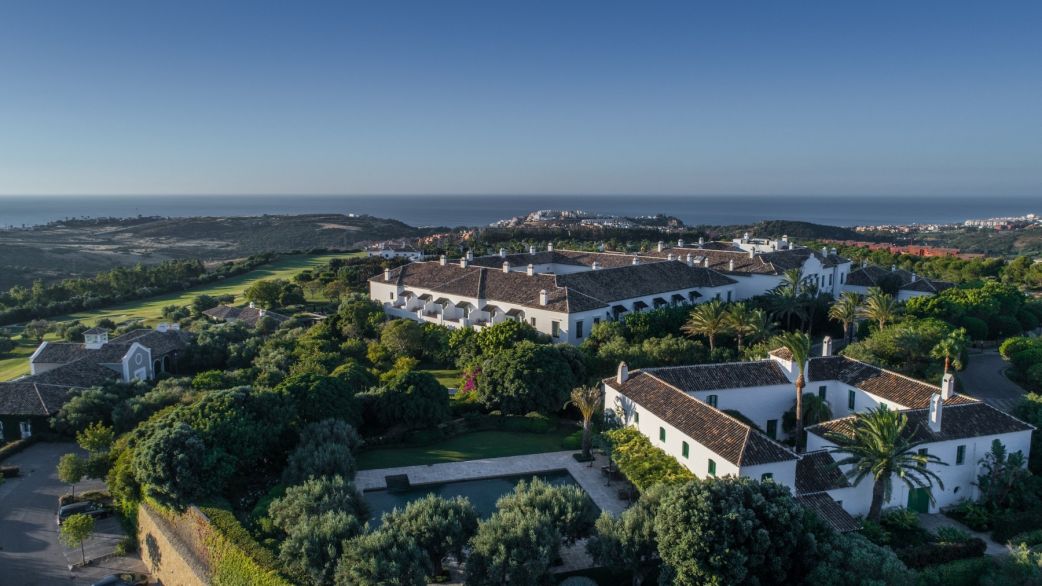 Luxurious Apartment Complexes
The key to satisfying demand for modern luxury property  in Marbella has been in the creation of a parallel market of superb complexes of apartments, offering design, location and luxury amenities frequently at a fraction of the price of a villa.
Pre-pandemic, luxury apartments could be purchased in the 200,000€ – 300,000€ price bracket in Marbella and the environs.  However, with record numbers of sales, huge demand from foreign buyers, big price hikes for building land and construction materials and an ever-growing appreciation of the healthy, outdoor lifestyle on offer with an average of 300 days of sunshine a year, demand is outstripping supply, and as a consequence, property prices in Marbella have risen approximately 20 per cent in the last 12 months alone, putting prices for luxury 2-bedroom apartments in modern complexes closer to an average of 450,000-750,000€.
With some 200 developments currently underway on the Coast from Málaga to Sotogrande, demand for such properties is greater than ever, and most new build developments sell out long before completion when prices increase.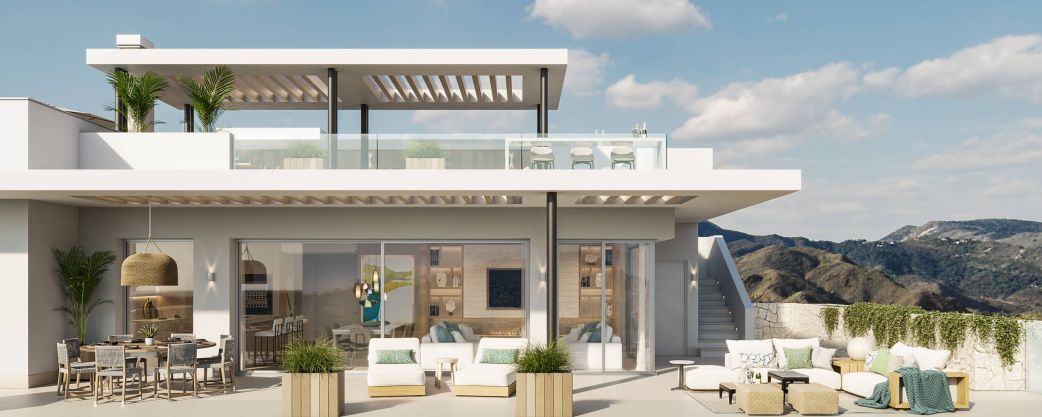 The Price of Luxury Property in Marbella
With the price of land and construction materials on an upward trend, there are several neighbourhoods in Marbella where the prices have sky-rocketed owing to the stellar location.  Take the Golden Mile, Sierra Blanca and Nueva Andalucía; here 1,000 m2 of building land for villas costs an average of 1 million euros.
The purchase price of land has sparked the trend for buying up and renovating old villas, a lucrative practice, and often a better investment than buying a finished new build.
For example, if your initial investment is €1.5 million for the older villa, plus another 1 million euros in renovations, the resulting property will have a market value of approximately €3.5 million. Buying luxury property in Marbella to renovate is a great investment whether you intend to live in the home or sell it on again.
However,  if you move a little further away from the prime areas of Marbella, you can still find luxury villas offering an excellent lifestyle for approximately €1 million.
Some of the other factors which traditionally characterize a luxury property include:
Size – With the price of land increasing dramatically  – this has impacted on price.  However, in every neighbourhood, there are bijou villas and apartments that may compromise on space but not on style or the amenities in the area.
Design –  While quality specifications are important, design can be relatively uncomplicated and pared down to create eye-catching design while keeping costs down.
Quality materials –  The trend for new builds in material is a blend of noble materials including stone, glass, concrete and wood. Certain developers deliver high quality time and again.
At the high end – there are simply stunning luxury properties in Marbella –– with designer collaborations, created by Marbella's so called "starchitects" to the highest of specifications. The more unique a property, the higher the potential value.
High-end amenities & services – take the example of properties in the Puente Romano resort.  Beautiful luxury refurbishments of these apartments command some of the highest prices per square metre in Marbella owing to not just the Golden Mile location but the abundant 5-star facilities of the surroundings;  20 gourmet restaurants, spa, tennis club, concierge services and unique social scene.
Interior design & technology – Many new build homes offer  energy efficiency, home automation, cost-effective climate control, finger print biometric security and state-of-the-art entertainment systems. As for design, from the simplest of contemporary furniture packages up to the bespoke interior design masterpieces, luxury interiors can be achieved according to your budget in Marbella.
Security & Privacy – with an abundance of gated communities, alarmed homes and security patrols both private and by the authorities, Marbella properties can provide a high level of safety and security. Enclosed communal gardens are ideal for families. With abundant green space, Marbella offers a high level of tranquillity, and many luxury villas are set within spacious plots,  providing the ultimate luxury, green space and privacy.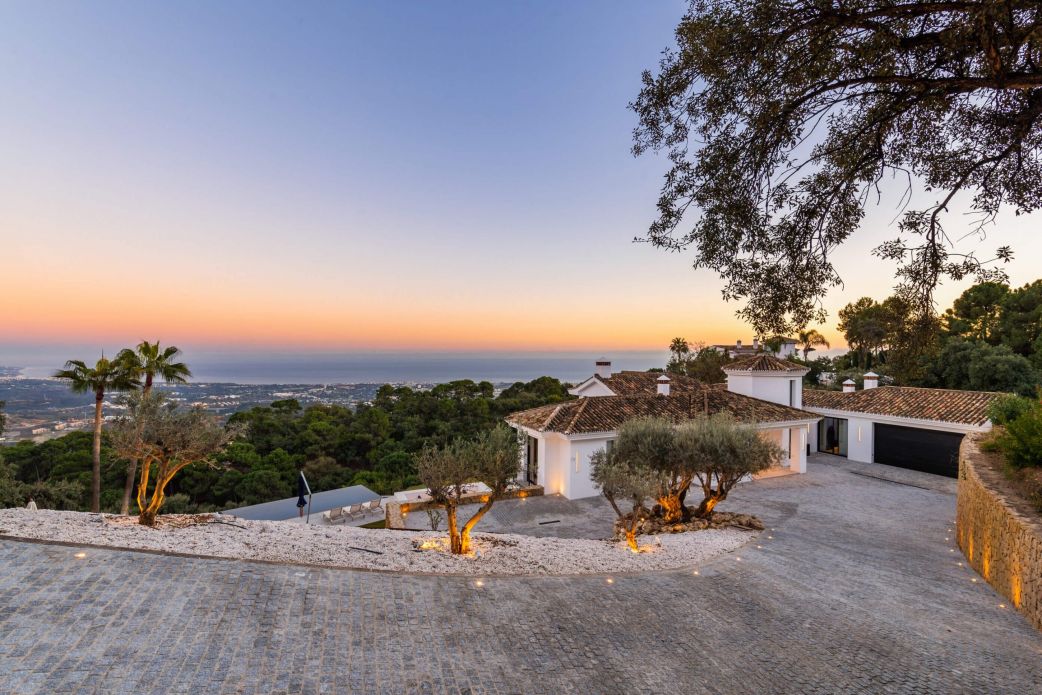 The Luxury of Marbella
As a unique resort in Spain and across the Mediterranean, Marbella has many factors that set the resort apart from others. With a unique microclimate, the resort has more than 300 days of sunshine a year, Marbella offers an alluring mix of a thriving cosmopolitan community – with 137 nationalities within the municipality, the resort also offers a taste of authentic Spanish lifestyle and culture.
As an upscale holiday destination, the leisure options are second to none; golf, sport, beach life, water sports and sailing, annual local fiestas and ferias, a vibrant social scene, nightlife and international gastronomy, designer shopping, art galleries, and a summer programme of concerts are the main attractions.
With considerably more green space per capita than the average recommended by the World Health Organization, Marbella has parks, abundant private and communal gardens and many areas of protected green zone, all backed by dramatic mountains and the gently undulating hills inland.
Ultimately, all luxury property in Marbella intends to offer the buyer an elevated living experience, something Marbella has been doing for generations.
Looking for a luxury porperty in Marbella?  Visit our website www.dallimoremarbella.com
For all your luxury property needs, please contact NCH Dallimore Marbella on Tel: 951 50 20 10.